Theodore Roethke - Biography and Works
Theodore Roethke an American poet, was born in Saginaw, Michigan. He is a unique twentieth century Romantic poet of America who was influenced by the nature, especially the greenhouses his father owned in Michigan where he was a child. As a boy, he read the great American Transcendental Romantic poet and thinker R. W. Emerson.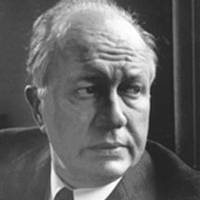 Theodore Roethke (1908-1963)
Known as a great teacher of poetry and of aspiring young poets, he became poet-in-residence at the University of Washington. Roethke imitated the rhythms of the nature and paralleled them with the rhythms of human life. He emphasizes that "we think by feeling," and even doubted, "what is there to know?" He is also known for some of the finest love poems of the twentieth century. Suffering from alcoholism and depression, he often wrote of his passion for the nature and his youth.
He received the Pulitzer Prize for poetry in 1954 for The Walking: Poem 1933-1953. Words for the Wind (1958) won seven awards, including the Bollingen Prize in 1958 and the National Book Award in 1959. Roethke shifted his style often between his first published work, Open House (1941), and his last collection, The Far Field (1964). His early poems had the concentrated quality of the poetry of Emily Dickinson. His next works showed the meditative mysticism of T.S. Eliot's poems. His later poems showed the influence of William Butler Yeats.
Roethke's concerns, however, remained constant. His field was the inner life rather than the political or social life. He looked for a sense of self in memories of childhood and for a sense of life in growing things. His father's greenhouse revealed nature (rooting, blossoming, dying) and art (grafting stems, forcing bloom). Roethke also wrote poems for children.