Thomas Carew - Biography and Works
Thomas Carew was born in 1595 AD at West Wickham, Kent as a third son of Sir Matthew Carew. He was one of the most important cavalier poets. He had completed his matriculation from Merton College, Oxford and did bachelors from Cambridge in 1612. In 1630 Carew was made a gentleman of Charles I's Privy Chamber Extraordinary.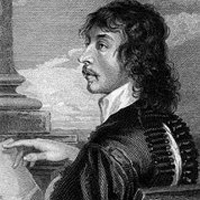 Thomas Carew
In 1622 Carew's first poem was published. It was verses prefixed to Thomas May's comedy "The Heir". He was greatly influenced by Dr. John Donne and Italian poet Giambattista Marino. His society verses such as "A Divine Mistress" and "Disdain Returned" claimed the prize for the outstanding use of wit. He was not a prolific writer, but whatever he composed it was of great value and he cared a lot in shaping each piece of art of work. His one of the best comedies "Coelum Britannicum" was performed in front of king that was full of jokes and allusions.
Most of Carew's poetry dealt with sexuality irrespective of his age and the norms of his era. In fact, he is a libertine who was freethinking in religious matters and took no notice in moral values. Despite being a libertine, he translated nine psalms and dedicated one finest elegy of the period; 'An Elegy on the death of Dean of St. Paul's Dr. John Donne' to Donne. It is all about the great contribution made by Dr. Donne to the English literature. He is best known for his amorous lyrics and courtly poems such as 'Ask me no more where Jove bestows' and 'He that loves a Rosy Cheeks'. His one of erotic poems is "A Rapture".
He never got recognition and fame like that of John Donne and Ben Johnson but he was one of the finest and elegant writer of that period who had own style in the cavalier school of poetry. His collection of poetry was published posthumously.