Thomas Love Peacock - Biography and Works
Peacock (1785-1866) was an essayist, poet, satirist and a novelist. He was famous for his seven novels. His Nightmare Abbey (1818) is considered as the most famous novel which depicts cultural and political aspects of society during the 19th century England.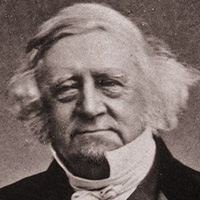 Thomas Love Peacock
Peacock vehemently criticizes the propensity of domination of long conversations in novels instead of focusing on the plot and the character. He plainly hates the intellectuality of the author dominating the characters. His novels are full of his best memorized verses. In the year 1812, Peacock met P.B. Shelly and they developed a deep friendship. The friendship became so close that Shelly made Peacock executor of his will. In addition to this, they studied Greek language together. The year 1817 has a great value as it is a period during which he has developed as a fine writer. It is believed that the witty language and the conversations in his books have origin in the conversations between Shelly and his friends. Peacock's Palmyra is mainly praised by Shelly. Peacock worked for the East India Company for the most important phase of his life.
His seven novels are:
Headlong Hall (1815)
Melincourt (1817)
Nightmare Abbey (1818)
Maid Marian (1822)
The Misfortunes of Elphin (1829)
Crotchet Castle (1831)
Gryll Grange (1861)
Verse
The Monks of St. Mark (1804)
Palmyra and other Poems (1805)
The Genius of the Thames: a Lyrical Poem (1810)
The Genius of the Thames Palmyra and other Poems (1812)
The Philosophy of Melancholy (1812)
Sir Hornbook, or Childe Launcelot's Expedition (1813)
Sir Proteus: a Satirical Ballad (1814)
The Round Table, or King Arthur's Feast (1817)
Rhododaphne: or the Thessalian Spirit (1818)
Paper Money Lyrics (1837)
The War-Song of Dinas Vawr
Essays
The Four Ages of Poetry (1820)
Recollections of Childhood: The Abbey House (1837)
Memoirs of Shelley (1858–62)
The Last Day of Windsor Forest (1887) [composed 1862]
Prospectus: Classical Education
Plays
The Three Doctors
The Dilettanti
Gl'Ingannati, or The Deceived (translated from the Italian, 1862)