Toni Morrison - Biography and Works
Toni Morrison (Born on February 18, 1931), novel prize winner writer, was born Chloe Anthony Wofford in Lorain, Ohio. Her parents had moved there to escape the problems of southern racism. Toni Morrison was brought up in the black community of Lorain. She spent her childhood in the Midwest and enjoyed reading from Jane Austen to Tolstoy.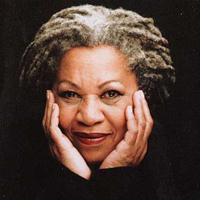 Toni Morrison (Born in1931)
Morrison's father, George Wofford, was a welder by profession. She was told folktales of the black community by her father, orally transferring his African-American heritage to another generation. In 1949, she enrolled Howard University in Washington, D.C., which is America's most distinguished black college. She changed her name from "Chloe" to "Toni", stating that people found her name "Chloe" too difficult to pronounce. She continued her studies at Cornell University in Ithaca, New York. Morrison did her thesis on suicide in the works of William Faulkner and Virginia Woolf, receiving her M.A. in 1955.
Morrison got an opportunity to be an English Instructor at Texas Southern University, at Houston from 1955 to 1957. In 1964, she started working as a textbook editor at Syracuse, New York. After eighteen months, she joined the New York headquarters of Random House. She also continued to teach at two branches of the State University of New York. Her first novel was written The Bluest Eye in 1970 when she used to teach at Howard University and had to take care of her two children. With its publication, Morrison also established her new identity. The story is set in the community of a small, Midwestern town. Its characters are all black. The Bluest Eye is an extension of an earlier short story. Pecola Breedlove, the central character, prays each night for the blue-eyed beauty of Shirley Temple. She believes everything would be all right if only she had beautiful blue eyes. The narrator, Claudia MacTeer, tries to understand the destruction of Pecola. After its publication, she started writing other novels too, like Sula (1973), Song of Solomon (1977).
With the publication of Song of Solomon, a family chronicle compared to Alex Haley's Roots, Morrison gained an international attention. It was the main choice of the Book-of-the-Month Club and the first novel by a black writer to be chosen since Richard Wright's Native Son in 1949. It was written from a male point of view. The story deals with a central character named Milkman Dead's attempts to recuperate his family's lost fortune.
After the success of Song of Solomon, Morrison wrote her most acclaimed novel Beloved in 1987 which won the Pulitzer Prize in 1988. It is the story of Sethe, a slave mother who kills her daughter to keep her safe from inhuman slavery. This novel deals with the themes of African roots, a sense of alienation and contains a slave narrative. However, the novel failed to win the National Book Award in 1987, and writers protested that Morrison had never been honored with either the National Book Award or the Pulitzer Prize. Morrison's other successful novel are Jazz (1992) and Paradise (1998). Toni Morrison was honored by Noble Prize in literature in 1993. At present, she teaches at Princeton University and is the chairperson of the Schomberg Library's Commission, which works for the preservation of the black culture.