Torquoto Tasso - Biography and Works
Tasso is the greatest Italian poet of the late Renaissance, celebrated for his heroic epic poem Gerusalemme liberata (1581; "Jerusalem Liberated"), dealing with the capture of Jerusalem during the First Crusade. In 1573, he wrote the pastoral drama L'Aminta (performed 1573; published 1581), which transcends the convention of artificial rusticity with the sensuous, lyrical inspiration of its picture of Arcadia.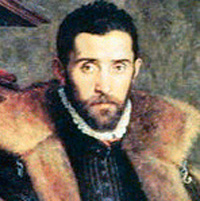 Torquoto Tasso (1544-1595)
The tone of L'Aminta is more lyrical rather than dramatic; the play presents with great delicacy of feeling a series of vignettes that culminate in the shepherd, Aminta's long-sought attainment of his beloved, Silvia. The play reflects in its idealization of court life the ephemeral period of happiness Tasso had enjoyed in Ferrara. Tasso became a literary subject first in 17th-century Italy and then in 18th- and 19th-century Europe, being finally represented as the man of genius who is misunderstood and persecuted. Modern criticism refers the peculiarities of his life and character to the moral incertitude of the times. He is also well known for his critical writings, especially those discourses in which he defended his own epic practice. He was well aware of the major critical issues of his time and the pressure to which poet and critic had to work and respond.