Wallace Stevens - Biography and Works
Wallace Stevens was an American poet. Stevens had a unique writing style. Although his language is often difficult and abstract, his poems also have an extraordinary richness of imagery and sound. They are playful, colorful and philosophical.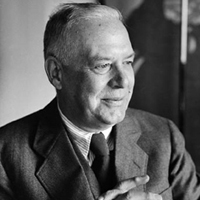 Wallace Stevens (1879-1955)
Stevens's major theme is the relationship between the mind and physical reality. In his view, people constantly face the disorder of the world and the certainty of their own death. They are rescued from this potentially tragic situation by the use of imagination. Imagination can give meaning to the confusion of reality and can also discover the beauty in nature and joy in the face of death. Because Stevens believed that only the imagination can make sense of the universe, he thought that God and the imagination are one."
Stevens explored the virtues of the imaginative life in such brief poems as "Sunday Morning" (1915), "The Emperor of Ice-Cream" (1922) and "The Idea of Order at Key West" (1934). He dealt with the same theme in such longer works as "Notes toward Supreme Fiction" (1942) and "Esthetique du Mal" (1944).
Stevens was born in Reading, Pennsylvania. He wrote his poetry while also succeeding as a lawyer and later an insurance executive. Stevens' Collected Poems (1954) won the 1955 Pulitzer Prize. Opus Posthumous (1957, revised in 1989) includes additional poems, plays, and prose.
Stevens's poems celebrate the natural world and view the poet as the one who discovers harmony in the world's chaos. In this celebration, much of Stevens's poetry has a strong sense of natural elements and processes, examples of which abound throughout his work: "the spontaneities of rain or snow", "the effortless weather turning blue", etc. According to Stevens, the natural world-however harsh and constraining it can be-is human kind's only source of certainty, even above religion.
Cite this Page!
Sharma, K.N. "Wallace Stevens - Biography and Works." BachelorandMaster, 24 Nov. 2013, bachelorandmaster.com/biography/wallace-stevens.html.