Walt Whitman - Biography and Works
Walt Whitman is one of the most famous American poets. His work boldly asserts the worth of the individual and the oneness of all humanity; his defiant break with traditional poetic concerns and style exerted a major influence on American thought and literature.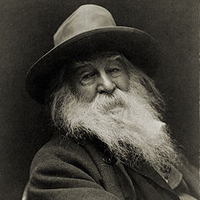 Walt Whitman (1819-1892)
Whitman is best known for his unorthodox, personal, and dynamic poetic style, which disregarded traditional rules of rhyme and meter, and for many editions of his famous poem Leaves of Grass, a work that celebrates individuality, sensuality, fertility and nature.
Born near Huntington, New York, Whitman was the second of a family of nine children. His father was a carpenter. Whitman was four years old, when his family moved to Brooklyn, New York, where he attended public school for six years before being apprenticed to a printer. Two years later he went to New York to work in printing shops. He returned to Long Island in 1835 and taught in country schools. In 1838 and 1839 Whitman edited a newspaper, the Long-Islander, in Huntington. Whitman worked for a time even as a printer, he taught briefly, and also served as a reporter and editor for numerous New York periodicals.
In 1855, Whitman anonymously published the first edition of Leaves of Grass, which contained 12 untitled poems in free verse, including works later called "I Sing the Body Electric" and even later "Song of Myself". The personal tone of these poems startled many readers. In 1860, he published the third and greatly expanded edition of Leaves of Grass, which included more than 120 new poems including "Out of the Cradle Endlessly Rocking". During 1862-1864 he traveled to Virginia to care for his wounded brother and also help other soldiers wounded in battle. In 1865, he published Drum Taps, a book of poetry based on his Civil War experiences, which was later folded into Leaves of Grass. In 1873, he suffered a stroke that caused partial paralysis, and moved to Camden, New Jersey, to be closer to his brother then he stayed in New Jersey and continued to refine Leaves of Grass and other works until his death in 1892, before he has published the final edition of Leaves of Grass, known as the "deathbed edition."
Though he received little formal education, spent time studying great works of literature in the libraries of New York City. Though the first edition of Leaves of Grass was not well received by the public, it was praised by American poets and writers. In 1865 Whitman was fired from a government job with the Department of the Interior after he was discovered to be the author of Leaves of Grass!
Site this Page!
Shrestha, Roma. "Walt Whitman - Biography and Works." BachelorandMaster, 19 Nov. 2013, bachelorandmaster.com/biography/walt-whitman.html.