William Inge - Biography and Works
William Motter Inge was born on May 3, 1913 in Independence, Kansas, America. He is one of the best American playwright and his most of the plays were adopted to films. He completed his education at the University of Kansas at Lawrence. He had been a teacher at the George Peabody College from 1937 to 1945. During that time period he also served as a drama editor of the Star-Rimes in St. Louis for four years.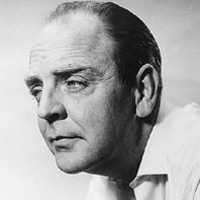 William Inge (1913-1973)
Inge's first play was Farther off from Heaven (1947) which was produced at the recommendation of Tennessee Williams. In 1957, the play was revised as The Dark at the Top of the Stairs for Broadway and in 1960 it was developed as a film.
Inge's dramas deal with the theme of quality of life in the small towns of the Midwest. He is basically well known for his plays like Come Back, Little Sheba. It was staged for 190 times in Broadway performances in 1950. This play won Tony Awards for Shirley Booth and Sidney Blackmore. The film adaptation of this play won Oscar and Golden Globe in 1952. His Picnic (1953) gave him Pulitzer Prize
His later plays were – A Loss of Roses (1960) which was filmed as The Stripper in 1963, Natural Affection (1963), Where is Daddy? (1966) and The Lost Pad (1970). Inge won an Academy Award for his original screenplay Splendor in the Grass (1961). He also wrote some shorter works like Glory in the Flower, To Bobolink, for Her Spirit, The Boy in the Basement and Bub Riley's Back in Town.
Picnic (1953) successfully ran on Broadway from February 19, 1953, to April 10, 1954. It was later made a movie in 1955, and won two Academy Awards. This play gave him Pulitzer Prize too. Natural Affection is about the fragmented families and random violence, but it lasted only 36 performances. Inge's The Last Pad premiered in Phoenix, Arizona, in 1972. The original production in Phoenix was proclaimed as the Best Play of 1972 by the Arizona Republic.
His some of the plays deal with the theme of homosexuality openly. The Boy in the Basement, a one-act play written in the early 1950s, but not published until 1962, is his only play that addresses homosexuality openly, while Archie in The Last Pad and Pinky in Where's Daddy? (1966) are gay characters.
Inge wrote two novels, both set in the fictional town of Freedom, Kansas. One is Good Luck, Miss Wyckoff (1970) and another is My Son Is a Splendid Driver (1971). Good Luck, Miss Wyckoff is about spinsterhood, racism, sexual tension and public humiliation during the late 1950s. My Son Is a Splendid Driver is an autobiographical novel that traces the Hansen family from 1919 into the second half of the 20th century.
During his last phase of life, his plays were less successful and he fell into a deep depression. He committed suicide by carbon monoxide poisoning on June 10, 1973 at the age of 60. There are still about two dozen unperformed plays by Inge.