Jude the Obscure by Thomas Hardy: Introduction
Jude the Obscure is the last novel written by Hardy. It marks his attainment of the heights of his art, and reveals the deepest recesses of his pessimism which, unlike in his other novels, remains unrelieved by even the slightest hope or joy. It was Hardy's frank treatment of sex in this novel that aroused a storm of protest among his readers who had inhibitions caused by the Victorian notion of prudery and sexual morality.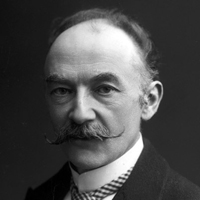 Thomas Hardy
This storm swept Hardy off his feet in the field of novel-writing, and he turned him towards that of poetry. Unlike other major novels, which are set against a rural background Jude the Obscure has an urban background for its setting. In Richard Carpenter's opinion, "The last novel Hardy wrote is also his most modern, turning away as it does from agricultural setting and pastoral myth to a restless world of cities and psychological insecurities."
The novel tells the story of an orphaned village-lad of South Wessex, Jude Fawley, who, under the inspiration provided by his teacher at Marygreen, Richard Phillotson, gets interested in studies and learning, and wants to join the University at Christminster. But he is refused to get admission there on grounds of being a boy with an obscure family-background. However, he continues his studies while working as a helping hand in the bakery of his great-grandaunt, Drussila Fawley. While working as a stonemason to support himself and pursue his studies, Jude falls in love with a coarse, lusty and vulgar peasant girl, Arabella Donn, who entraps him into marrying her. The marriage proves a failure. The couple have frequent quarrels, and finally Arabella abandons Jude, and emigrates to Australia. Jude resumes his studies, and makes up his mind to go to Christminster where a cousin of his, Sue Bridehead, a young school teacher, is living too. He falls in love with Sue, but she, on learning that he is already married, discards him in favor of his former teacher, Phillotson, who has begun to love her.
Disgusted and unhappy, Jude comes back to his home in Marygreen, but later goes to Melchester, where Sue is studying at a teachers' college. Sue is expelled from there because of her alleged affair with Jude. She has now married Phillotson, and Jude goes back to Christminster where he meets his wife Arabella, who has recently come back to England from Autitralia.
Sue's marriage wits Phillotson proves a failure, and they are divorced. Jude divorces his wife too. Now, Sue and Jude decide to live together; but the idea of legally marrying is unthinkable to Sue. So they lead what is supposed by society to be an immoral life. Meanwhile, their children die a tragic death for which Sue is at least partly responsible. She feels remorse, becomes a religious-minded woman, and remarries her former husband, Phillotson, in order to atone for her sin. Frustrated, Jude takes to drink, and, in a state of drunkenness, is trapped into re-marrying his former wife Arabella, whose present husband has died. Jude is alone and sick, with nobody to take care of him. Arabella is busy in her enjoyment with a new lover. On being visited by the dying Jude, Sue refuses to have any concern with him. Deserted by all, Jude dies miserably at Christminster, leaving behind his wife enjoying sensual pleasures and the university which had refused to admit him conferring honorary degrees on people who are least worthy of them.