The Return of the Native by Thomas Hardy: Introduction
The Return of the Native is a highly moving novel depicting man's helplessness in the face of a cruel and omnipotent Fate and showing him as a mere plaything in the hands of the gods. The indifference of the Universe to Man's condition on earth and the cruel treatment meted out to him by Nature, are touchingly revealed by Hardy in this novel.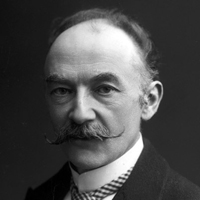 Thomas Hardy
The story of the novel is set against the somber rural background of Egdon Heath, and embodies the tragedy engulfing the life of several of its characters. Clym Yeobright, the native of Egdon Heath, returns from Paris, where he has been engaged in business as a jeweler and diamond-merchant. Fed up with the superficially attractive life of Paris, and disgusted with his occupation, he settles down in his hometown with plans to become a schoolteacher and set up a school for children. Here he falls in love with the willful and passionate woman, Eustacia Vye, who is bored with her life in Egdon Heath, and seeks an escape from it. She has already had an affair with Damon Wildeve who, in his turn, has also had an affair with Clym's cousin Thomasin Yeobright whom he marries to spite Eustacia.
Eustacia marries Clym Yeobright in the hope of persuading him in future to leave Egdon Heath and go back to Paris to settle there. Clym studies too much to equip himself as a teacher, and loses his eyesight partially. He has to give up studies and become a furze-cutter. His relations with his mother become strained because of his marriage with Eustacia. On her part, Eustacia feels disgusted and bored after not being able to get rid of Egdon Heath, and renews her affair with Wildeve. Clym has a quarrel with Eustacia when he comes to know about this affair. Diggory Venn, who has been in love with Thomasin Yeobright, stands in the way of this affair between Eustacia and Wildeve to save his beloved the pain of being a victim of the unfaithfulness of her husband (Wildeve). Having been the cause of the death of Clym's mother, Eustacia plans to escape from Edgon Heath by eloping with Wildeve. But both die by drowning in the weir-pool during their attempt to leave the town. Clym feels himself guilty of causing the death of his mother as well as his wife, and becomes an itinerant preacher to find comfort in religion. After a long time, Thomasin marries her sincere and devoted lover, Diggory Venn. Thus, despite its gloomy atmosphere and tragic incidents, The Return of the Native ends on a note of happiness.
Like Far From the Madding Crowd, The Return of the Native also presents a contrast between selfish and passionate love, such as that between Eustacia Vye and Wild eve, and a sincere and selfless love such as that of Diggory Venn for Thomasin. Abounding in pessimism, despair and gloom, the novel has touches of joy as in the portrayal of peasants like christian Cantle who live in harmony with Nature, and are thus happier than the central figures, or in the jokes of other rustic characters. The novel is also remarkable for its precise pictures and poetic descriptions of Nature.
The Return of the Native clearly shows Hardy's increasing tendency to despair. Nothing in his own life can explain the deepening gloom. But in this and later works he becomes obsessed with the tragic issues of human endeavor and persistently refuses to admit the possibility that fate can sometimes prove to be indulgent and grant human desires. Egdon Heath itself becomes symbolic of the doom of man. The description the Heath is loaded with a philosophy inspired by its somber, elemental grandeur, its gloomy vastness in which every living thing seems to be swallowed up in the depth of the centuries.