Ulysses by James Joyce: Themes
In deeper level, Ulysses can be taken as the quest for the paternity. The two protagonists Stephen and Bloom both have own search. Stephen is in search of a spiritual father and Bloom is in quest of spiritual son.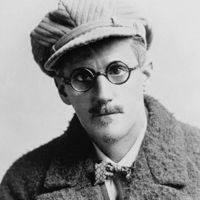 James Joyce
Stephen Dedalus is more conscious on his search of a father figure. In the quest of Stephen for his ideal father figure, Joyce found a symbol for man's quest for social support and an artist's quest for maturity and perfection. Stephen has already a biological father, Simon, but he never takes Simon as his father because he feels his father Simon Dedalus and his criticism have obstructed his artistic growth and social status. Stephen can't reinforce his identity in art and in his real life too. So he is in constant search of spiritual father who would support him in all respects.
When Rudy was some days old, he died. Leopold Bloom when meets Stephen he sees in Stephen his dead son, Rudy. He thinks if Rudy had lived, he would have become like Stephen. Bloom is haunted by the memories of Rudy in most parts of the novel. In a sense, Bloom feels contented and happy after meeting with Stephen, his spiritual son. It is suggested at the end of the novel that both Molly and Bloom feel they are perfect for each other and can have a happy conjugal life ahead just because of the short presence of Stephen.
2. The Remorse of Conscience:
The remorse of conscience is a religious term that comes to Stephen's mind throughout the novel. He is haunted by his feeling of guilt over his mother. He blames himself for the untimely death of his mother because he did not pray for her in the sick bed when she asked him to do. He regrets his ill treatment towards the mother and the separation. In the same manner, Bloom too repents over his own negligence on the tradition. He knows that he has not been observing some tradition and rituals that his father used to observe such as 'Keeping Kosher'.
The feeling of remorse of conscience leads to paralyzing effects on people's life, but can be good and constructive if learnt from it and never repeated.
3. Comparison as Heroic:
Another important theme of Ulysses is compassion that Bloom has. Though Bloom is un-heroic in most respects like his job, family relations, private affairs, public relations and his simple deeds, but his compassion and a sympathy for others make him the hero of the modern world. His pity for birds, animals, passerby, dead man, old ladies, the poor, the woman in labor and so forth are some examples of his ability to face a wide range of challenges of day to day life. The essence of Bloom's compassion is "to love" all. His great compassion makes him heroic in Ulysses.