Byzantium by William Butler Yeats: Introduction
Yeats wrote the poem Byzantium after the poem Sailing to Byzantium, apparently dissatisfied (it is said someone pointed out its drawbacks) by the former poem: The first poem's title includes 'sailing to' but the poet presents himself as already (and easily) reaching there!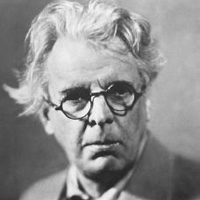 William B. Yeats (1865-1939)
In this second poem on the subject of the artist becoming the part of the eternal world of perfect art, Yeats shows the process of purification of the artist that burns his physical and lowly self and refines it to an eligible spiritual artistic self. This poem represents the voyage and is written from the point of view of the initiating individual who watches the uninitiated, unpurged spirits arriving from beyond the "gong-tormented sea" which separates Byzantium's reality from the flesh and blood reality of the twentieth century world. The subject of this poem is the nature of the final escape from the round of re-incarnation. This poem is parallel to sailing to Byzantium. As in the earlier poem, the first stanza here is concerned with the flesh-and-blood world that is being left behind, the world of "unpurged images". After that opening stanza, the miraculous golden bird, the purgatorial flames, even the spirits crossing the sea, are all recalled, but in reverse order to their appearance in the earlier poem, for both the setting and the point of view have here changed completely. "Byzantium", usually discussed as a companion piece to "Sailing to Byzantium" written four years later, takes up the actual process by which the artist creates his images and, in a bold stroke by Yeats compares the creative process to the soul's journey after death. Some commentators have seen "Byzantium" as "a description of how art is created". Others have emphasized the poem as "a symbol of the heaven of man's imagination". "Byzantium" is finally about both art and the soul or, about "life, death and art." This great poem, Yeats claimed did warm his back into life. The soul, liberated from life, must travel back through its past life, live events over again until it finds or perhaps becomes an image that breathless mouth. This miracle by which the poet encounters an image of the soul is hailed as "death-in-life and life in death" (not in the sense of Coleridge or Eliot.)
Cite this Page!
Sharma, K.N. "Byzantium by William Butler Yeats: Introduction." BachelorandMaster, 25 May 2017, bachelorandmaster.com/britishandamericanpoetry/byzanytium-introduction.html.