Daddy by Sylvia Plath: Summary
The speaker of the poem begins with an angry attack. She begins with a kind of conclusion that the 'you' does not do anything anymore. She calls him a 'black shoe'. She says that she has lived in that black shoe (like a foot) for thirty years. The speaker is not only using the traditional symbols; she is also using the symbols in the 'private' sense.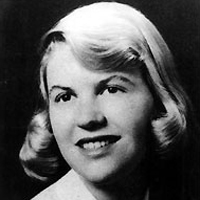 Sylvia Plath (1932-1963)
For instance, to live in a shoe must mean 'living in a deplorable condition'. The speaker adds to the imagery when she says that she has been living in that condition for thirty years being poor and 'white'; and she is also not able to breathe properly and express her pain.
The speaker now directly addresses her daddy and tells him that she always wanted to kill him. She calls him a heavy man, "a bag full of God", a horrible (ghastly) statue with one gray toe as big as a San Francisco seal (large sea animal). The images in this stanza give several kinds of shapes and qualities to the picture of the speaker's father. To be heavy must be suggestive of being imposing and fearful.
The speaker says that her father is also like a gigantic statue that has a head in the freakish Atlantic. She adds that its head is pouring green bean over the blue ocean. It is dirtying the waters of the beautiful beach of Nauset. She used to pray to get him back from his grave; as we see later, she always wanted to get him back and kill him again!
She expresses her hatred against the Germans, and identifies (sees as the same) her father with them. She sees her father's image in the Nazi soldiers, the Germans and their Hitler. In the German language (tongue), she can hear her father. She can see him in the Polish towns where the Nazi ran the roller machines over men on the streets! The role of war (symbolically) brings his image in her mind. He is the symbol of atrocity and genocidal tyranny. She can never talk to such a man. It is as if her tongue is stuck in her jaw.
She adds that her tongue has stuck in a barbed wire snare. The fence with thorny (barbed) wire is the signal of the army. The sounds "ich, ich, ich, ich" is an expression of not being able to speak, because her tongue is hooked by the army wires. Then she says that she thought every German was he. She also thought that his language was the vulgar (obscene) language of the soldiers.
The next is an image of an engine, a roller, which he German army used to roll over the people in Polish towns in 1941. She adds that she feels that she herself is being crushed by the engine. She says that she is like one of the Jews who were crushed or tortured to death, in one of the concentration camps of Hitler: Dachau, Auschwitz and Belsen are the places where Hitler gathered and killed thousands of innocent Jews. The speaker says that when she remembers this she begins to talk like a Jew. She even thinks that she is a bit of a Jew.
The speaker changes subject and says that the blood and oppression have made the world impure. The snows of Tyrol in Italy and the beer of Vienna in Austria are no longer pure or true. The speaker here implies that history and the world of male traditions are all false and impure. She adds a quite a different issue when she repeats that she may be a Jew because she has a Tarot pack of astrologer's card. She remembers that her grandmothers (ancestress) were short (gypsy), and so she could be really a Jew. We know that Plath's ancestry was mixed one and her mother was an Austrian. She remembers her father and says to him that she has always been afraid of him.
He is not a God, but a swastika; she calls him a terribly black and huge swastika that covers the sky itself. The swastika itself is the symbol of 'goodwill' used since ancient times in Hindu communities, but Hitler took it to symbolize his ideals and rule and so it is taken as a sign of the devil here in this poem (there's noting wrong with the original swastika, though). Changing issues in mid-stanza, the speaker says that women love the Fascists (of Italy) who believed in absolute rule. This is obviously an irony because women in particular hate oppression and tyranny. Then she adds an image of a boot in the face, certainly an image of the Fascist way of dominating men. They are brutes, with a brutish heart, and a savage nature. This stanza contains, like many others, such a language which suggests that the speaker is so disturbed mentally that she cannot follow a simple line of thought. The change of subject in mid stanza, the absurd images, the unrelated ideas and the exaggerated and twisted expressions all suggest that her anger is so much that she is not able to properly organize and logically express them.
The speaker brings up a simpler image of her own father when she was a child. She suggests that she remembers the exact image of her father as he stood before the blackboard. This seems to be her mental picture of his harshness as he tried to teach her. She remembers the cleft (parted) chin instead of having a cleft foot. The demons are believed to have cleft feel.
He is no less a devil for that, because he has bitten her pretty red heart into two pieces. She says that she was ten when they buried him. This is one autobiographical clue in the poem, because Plath's father had died when she was about ten (eight). At the age of twenty, she says, she tried to die. But she says she got back to kill him. In fact, her relatives had prevented Plath from her attempts at suicide for two times, and she had succeeded on her third attempt. Here she says that she came back to kill him; even his bones would do. She would take revenge by destroying them, imagining to have killed him.
She says that they pulled her out of her suicidal attempts (sack). They stuck her back to life. But then she knew how to utilize the life forced upon her: she made a black effigy (model) of her father and destroyed it.
She says that she has killed two men, her daddy and his ghost (vampire is a blood- sucking ghost) which drank her blood for seven years. She tells that to her daddy and adds that he can now go and rest forever. In the last stanza she concludes that there is a big stick (stake) in his black fat heart. She reminds him that the villagers never liked him. And now after his death, they are dancing and stamping upon his grave. She says that they always knew that it was he who was the rogue, the tyrant, and so on. The speaker uses the most angry word 'bastard' in the last line. And now that she has expressed her anger to the fullest, she seems to be relieved. She says that she is satisfied (to be though).
Cite this Page!
Sharma, Kedar N. "Daddy by Sylvia Plath: Summary" BachelorandMaster, 28 Apr. 2014, bachelorandmaster.com/britishandamericanpoetry/daddy-summary.html.