Endymion by John Keats: Summary and Analysis
Endymion is A Poetic Romance, Keats's first major work, was published in 1818 and it is considered as one of the masterpieces of the early nineteenth-century Romantic movement in English literature. The most often-quoted line, 'A thing of beauty is a joy forever,' tells that a beautiful thing of nature always provides a satisfying pleasure to the soul.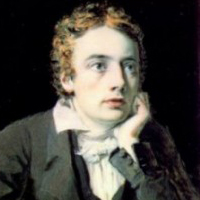 John Keats (1795-1821)
In Endymion, the title character also searches for the source of the joy and due to his discontentment he faces different situations.
In Endymion Keats takes and embellishes a tolerably familiar story from the Greek mythology, he learnt in Chapman's Homer and through another retelling of the stories available to him. Each book is preceded by a traditional kind of introduction - as Milton uses in Paradise Lost - in which Keats generalizes upon the experience before moving into his story. Book I then describes the isle of Latmos (of which the young Endymion is lord; its most beautiful, fleet, manly and strong figure) and the people assembling to celebrate the rites of Fan in a formal and (for the later Keats, too) preparatory ode, acclaiming the 'ripen'd fruitage', the chuckling linnet' and 'summer completion.' During the subsequent festivity, Endymion, who has been trying to conceal heaviness of spirit, confesses to his sister Poena his consuming love for an unearthly maiden seen in a dream. He determines to search for her on hearing a disembodied whisper which encourages him in the deepest forest. In Book 2 he ranges the land until, guided again by the voice, he ventures into a strange vaulted world, an immeasurable distance below ground, where he stumbles on strange visions of Cupid, of Adonais lover of Venus, and is blessed by Venus, goddess of love. The vision fades and he is alone again in tile weird caverns. He is swept up by an eagle who drops him in 'a jasmine bower' where he finds his goddess, briefly enjoys passionate and sensuous love, and is alone again. In Book 3 he plunges deep below the ocean to recover his lost Cynthia, spirit of the moon. He encounters an ancient/man, Glaucus, whom he releases from a spell cast by Circe: thus reanimating the bodies of drowned lovers, and attends the celebratory rites paid by the resurrected crowd to Neptune and Oceanus, gods of the seas. The vision vanishes and in Book 4 he rediscovers his goddess incarnated as an Indian damsel who sings the Ode to Sorrow before she declares her undying love for him, and her unattainability for mortal men. Yet again, he is abandoned, but as his sister returns to welcome him back to the solid, human world, the goddess of the moon, alias the Indian damsel, alias Phoebe, alias Cynthia, returns, and 'spiritualizes' Endymion so that he is fit for celestial living." In the last line as well she might say, 'Poena went Home through the gloomy wood in wonderment.'
Endymion is an extended narrative poem divided into four books of about one thousand lines each, written mostly in heroic couplets. The title Endymion is named after a figure from Greek myth. The poem starts from Endymion's impossible desire to get the love of the goddess Diana (also known as Cynthia). In the end when he feels the love for the mortal Indian maiden, he realizes she is really Diana, his immortal desire in mortal disguises. He apprehends the dangers of denying his own human nature and learns that he can achieve the abstract ideal only if he accepts the concrete human experience. This is the central idea the Keats wants to deliver through this poem. Endymion (A thing of beauty) is usually read as a direct and honest declaration which caters a main idea that any beautiful thing provides us with continuous pleasure. Even if the beautiful thing fades away, decays, loss or dies, we never stop loving them despite the adverse situation.
Keats has used the metaphor, alliteration and imagery as poetic devices. Metaphor is obviously used in "wreathing a flowery band", "bower quiet", and "sweet dreams". The vast use of imagery can be found in the phrase "flowery bands", "shady boon", "daffodils in green world", "clear rills", grandeur of dooms" etc. "Cooling covert" and "endless fountain of eternal drink" are one of the notable examples of imagery used in this poem. This poem received many scornful criticisms after its publication. Though Keats himself noticed the incoherent style, he did not regret writing it.
Cite this Page!
Sharma, K.N. "Endymion by John Keats: Summary and Analysis." BachelorandMaster, 17 Aug. 2017, bachelorandmaster.com/britishandamericanpoetry/endymion.