Lapis Lazuli by William Butler Yeats: Summary
Lapis Lazuli is a deep blue mineral. Here it refers to the medallion of this Chinaware presented to the poet. The poet has listened to the cries of hysterical women (of the nineteen thirties) who are panicky and scared of the preparations for the Second World War. They are sick of the painter's palette and the musical instrument of the singer and the poet's compositions because all of them are happy and gay.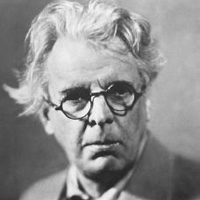 William B. Yeats (1865-1939)
The women express their anxiety and suspense and want everybody to known that unless something drastic is done, airplanes and bombs will level flat the town just as King Billy-King of Orange hurled bombs in the battle of Boyne. Everything will be reduced to dust.
The Arts have a fruitful role to play in a world overwhelmed by war-hysteria. Look at the tragic characters in a play. There walks Hamlet on the stage and there is Lear. There is Ophelia and there is Cordelia. They do not break down in tears or collapse even when the last scene is being enacted and the curtain is about to drop. They play their roles efficiently. They do not interrupt their words with weeping. They know that Hamlet and Lear and happy. Their joy in acting transforms their fear and tragedy. They know that human life is basically tragic.
Their acceptance of fate leads to their inner illumination and tragedy enlarges their understanding of life. Though Hamlet raves and Lear falls into fits and even if all that drops seems to occur at once on a thousand stages, world-wide destruction of human lot cannot be worse or more tragic than what it really is. Pilling of horror on horror cannot add further to the tragedy of life.
Civilizations have come and gone; why should we feel sorry if our civilization is destroyed. Conquers came with armies, some on foot, some on ship, camel-back, horse-back, ass-back and mule-back. They destroyed the old civilization and their wisdom, to, came to an end. Callimachus, the Athenian sculptor created wonderful things of marble as if it were bronze. Yet none of his sculptures exist today. He with his running drill made dress of human beings in marble as if they would move with a gust of wind. He made the bronze lamp in the form of a stern and of slender palm leaf. Nothing of this exists today. All things are destroyed and are built up again. So, all those who build again can be happy again.
The poet gives an account of the carved China-ware which supplies the title to the poem. Before me lies this Chinese gift of semi-precious blue stone called Lapis Lazuli. Here are three human beings-two Chinamen-an ascetic and his disciple and the third one who follows them carries a musical instrument and is their servant. Above the three flies a long-legged bird whose presence indicates that these three men will have a long life.
On this China were, every discoloration of the stone or crack or dent indicates a water-course (stream) or an avalanche or some lofty slope covered with snow. The plum and cherry branches are found near the half-way house towards which those China-men climb. The poet feels happy with the thought that the China-men are seated in that house. From the mountain, they view the tragic scene all around. One of them desires that some mournful song be sung and the expert artiste begins to play on the instrument. The eyes of the two Chinese listeners shine brightly in their faces full of wrinkles. They appear to be quite happy, in spite of the tragic scene around. Poets and artists can view with balance and equanimity the world tragedy, as well as the rise and fall of civilizations.
This poem represents the almost constant pressure on human society to renew and regenerate that what has been lost. With the new generation coming into its own as the turn of the century passes we as artist have a responsibility to the following generations to provide what will be needed in the future. In conclusion, the poem should be read aloud in a voice as emotional and resounding as possible so that the full effect of the words and alliteration can be felt through the body, mind and even soul if it is read just right. What will follow is a mystical experience that cannot be described, but is ineffable. Wondering what it means to understand a poem to this degree is like experiencing racism to the ninth degree with a stadium of people watching.
Cite this Page!
Sharma, K.N. "Lapis Lazuli by William Butler Yeats: Summary." BachelorandMaster, 23 Nov. 2013, bachelorandmaster.com/britishandamericanpoetry/lapis-lazuli.html.