Marina by T. S. Eliot: Summary
The poem starts with the questions asked by Hercules in the epigraph. Quis hic locus, quae regio, quae mundi plaga? Which means 'What place is this? What region, what quarter of the world?' Here the happy image of the regained daughter of Pericles is contrasted with an ominous reference of the story of Hercules.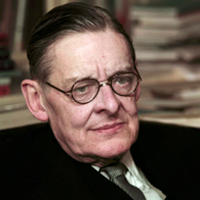 Thomas Sterne Eliot
After an awakening, Hercules discovers he had killed his own children in a fit of stupidity. On the other hand, in the case of Pericles, the feeling is just opposite of Hercules's feeling. However, the question raised by these two characters conveys the same intensity of the opposite feeling.
The second stanza of the poem clearly projects the gloominess of Pericles related to the past where he resumed the evil thought of the death of her long lost daughter, Marina. The third and the fourth stanzas illuminate with the light of hope as Marina is found and everything is safe and sound. The theme of paternity is focused on the rediscovery of his lost daughter by Shakespeare's Pericles. Eliot successfully recreates the remarkable recognition scene in Act V of Shakespeare's play Pericles. The powerful relationship of the sea-world with the dream world is caught and then reinforced by the musical composure of the verse.
The twelve lines are not vividly explained; the face of Marina appears obvious to Pericles slowly and gradually. The parts of the coming ship-face are weak and seems it need repair in every department.In Shakespeare's play, Pericles is thrilled with joy and hears music unheard by others present. He believes it to be the music of spheres. But, in Eliot's poem, the music is that of the 'wood thrush singing through the fog'. The main images are the scent of pine, the sound of water at a bow, and of 'whispers' and small laughter.
T. S. Eliot uses salient images and rhythms to match the wonderful feelings of the father who is the speaker. Not only in the matter of themes and images, but also structurally, the waves and returning are essential to the poem. The title and the epigraph are contrasted with one another. Pericles happy that his allegedly dead daughter is in fact alive. Hercules is shocked to discover that in a fit of insanity, he killed his children. Casco Bay, Maine, from Eliot's native country lies behind the setting of 'Marina'. That place's sea and shore, grey rocks and granite islands are all wrapped in a typical sea-fog. The other features are pine wood and wood thrush. All these are extraordinarily portrayed and brought to life by Eliot.