Neoclassical Poets
English poets from 1660 to 1798 are generally known as neo-classical poets. They are called so because they had a great respect for classical writers and imitated much from them. Order, correctness and established rules were carefully observed. Set phrases and reasons were commonly used in their poetry. For neo-classical writers, poetry was an imitation of human life.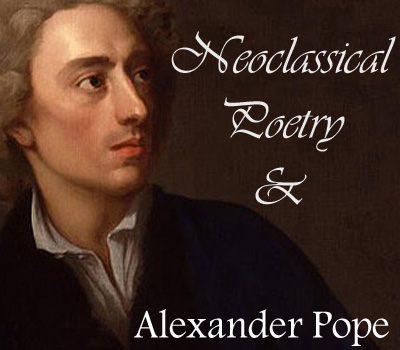 John Dryden is a famous poet of his time. Dryden wrote a great allegorical satire named Absalom and Achitophel. In this poem he had used a biblical story in order to attack the politicians of his time. Another satire is MacFlecknoe which attacks a rival poet named Shadwell. Dryden had a good command of heroic couplets through which he could write biting satires. The Ode for Saint Cecilia's Day and Alexander's Feast are his best short poems. During the later years of his life Dryden translated many classical works of great writers from Greek and Latin.
Alexander Pope is another famous satirical poet of the eighteenth century. Though Pope was physically weak because of his long illness, he wrote Essay on Criticism while he was still young. The book contains some remarkable expressions. In his delightful poem The Rape of the Lock he uses a trivial subject matter and treats it significantly. In his satirical poem The Dunciad Pope laughs at the poor poets who are writing for their living. He sometimes has misused his genius by attacking the individual in his poems which now seem of little importance. His later poems are the Essay on Man and four Moral Essays. The first one is somewhat philosophical. Like Dryden, he also translated some classical works of Homer.
During this time most of the poets commonly wrote poems about the man and his city life. But unlike other poets James Thomson turned to nature and wrote four poems on the seasons in blank verse. They are Winter, Summer, Spring and Autumn. But he could not avoid languages of his time. Thomson wrote another good poem The Castle of Indolence in Spenserian stanza. It contains beautiful sleepy language.
Thomas Gray was also a great poet of this age. He belonged to a group of poets who are sometimes called the Churchyard school of the poets. The Elegy Written in a Country Churchyard is one of the best poems in English by Gray. In this poem he expresses the sorrowful feelings which arise in his mind on seeing the graves of the poor country people buried near the church. His ode The Bard is a very sad song. In his Ode on a Distant Prospect of Elton College he describes the schoolboys who are happy and careless about the troubles in the coming days of their lives.
William Blake is a poet as well as an artist. Most of his poems are mysterious. It is very difficult to understand the meaning of some poems by him. Blake was a visionary poet and he never believed in earthly things. His great poetic works are Songs of Innocence and Songs of Experience. Of these, two poetic works, the second one is darker and heavier than the first one. It presents the painful realities of life.
Robert Burns was a Scottish farmer whose lyrics became famous. He wrote hundreds of songs and lyrics, and among them Mary Morrison, John Anderson and The Banks O' Doon are famous. His love-songs include 'My love is like a red, red rose'. He had a deep understanding of animals and love for them. Even a mouse brought a gentle poem from his pen.
One more eighteenth-century poet is worth our special notice: William Cowper's verse shows the beginning of the swing away from the formal classical style of Pope towards the simpler, more natural expression which we shall see in Wordsworth and Coleridge.
The Churchyard School of Poets
The 18th Century was an age of great prose. Until its close, there was only second rate poetry. In the closing years, a change took place in the character of its verse that finally led to the fine Romantic poetry. The change was first seen in James Thomson's The Seasons. It was a collection of four poems in blank verse: Winter (1726), Summer, Spring and Autumn (1730). These poems described woods, fields, birds and deserts. Though he occasionally used the artificial language of the age, he started a new trend in English poetry.
During this period, a group of young poets chose death for their subject. These poets are sometimes called the Churchyard School of poets. One of them was Edward Young. His Night Thoughts was very popular and was written in good blank verse. In this, he deals with life, death, the future world and God. It has a sad and dark atmosphere filled with strange imaginations. Robert Blair also wrote in the same tone and used the blank verse. In his poem The Grave, he requests the dead to come back and tell about the grave.
The finest poet of this school was Thomas Gray. His Elegy Written in a Country Churchyard is one of the most beautiful and famous English poems. In this elegy, he expresses his sad thoughts as he looks at the graves of the poor villagers in the churchyard of Stoke Poges. He thinks of what they would have become it, they had received the opportunity. But he feels sorry for them because they could not go to the cities to become famous. His ode The Bard is a sad song by a Welsh bard. He curses King Edward I and his race for killing all the bards of Wales.
Some poets turned to the past to escape from the orderliness of the 18th Century. Thomas Percy's Reliques of Ancient English Poetry brought to light many old poems from the darkness of the past.