Image of Women in Desire Under the Elms
At first O'Neill presents his female characters suffering from a certain degree of emotional lack. Then he presents his female characters struggling to enter into relationship with male partner just for the sake of filling this giant void at the core of self. From their budding relationship with their respective male partners these women desire in-depth emotional satisfaction.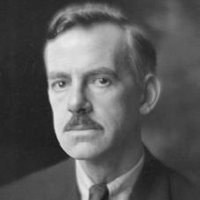 Eugene O'Neill (1888- 1953)
O'Neill, at this juncture, shows his woman's character submerging deeper into the intense yearning of bottomless heart. Along with this submergence they happen to be modern souls with a deadened conscience, they become morbidly deviant capable of doing anything in their attempt to affirm the craziness of their violent will power. At the end, they do not feel ashamed and guilty even though they have committed those errors and mistakes, which are sure to torment their conscience. This is how the philosopher playwright O'Neill brought out the image of women in Desire under the Elms. O'Neill has revealed some unpalatable facts regarding to the image of Eben's mother who died when Eben was fifteen years old. From the conversation between Simeon and Peter and Eben we come to know that Eben's mother died because Ephraim Cabot forced her to work until she becomes physically crushed and extinguished. The image of Eben's mother, who died many years ago, is the image of a victimized woman, the image of a woman who was deprived of her basic right of love from the husband. She was exploited, thus left to live a neglected life. It shows that the old Cabot married her and used her only as a means to get the farm. Eben's hatred towards his father brings this to light.
There is another image of a prostitute called Minnie. From snatches of conversation in drama we come to know that she is the lover of Ephraim, Simeon, Peter and many others. It is also known that now she has been visited by Eben Cabot for the sake of sexual entertainment. O'Neill, does not directly sketched the image of Minnie a reputed commercial sex worker. Through the pattern of the evolving conversation O'Neill sought to present the image of Minnie who is a sexual adventure.
The single most image of Abbie comes into the dramatic canvas through the conscious and cautions craftsmanship of O'Neill. At first Abbie appears to be a widow whose husband and a son died. She, then, appears to be a wife of a seventy-five years old man whose two erstwhile marriage had ended in utter futility. Abbie comes to the farm as a woman who has a great lust for property. Eben thinks that she has come there to take his mother's place. Her lust for farm inspires her to give birth to a son no matter how. Though she married old Cabot, she began to hate him after marriage and began to make advances to her step son Eben. It is a picture of a woman who is incestuous. It is an act of demonizing woman. Her growing relationship with Eben reflects the fact that she can break and breach any moral boundary in the name of creating an opportunity for the gratification of her lust. Her advance towards Eben was caused by her unbounded lust for him. Her main purpose for doing it is to have a son through which she could gain access to the property of the old man. She thought the old man was incapable of giving her a son so she began to get closer to her stepson. It shows her lust both for property and sex. It is this act that was the source of many problems. At that moment in the elongation of plot she enjoys the image of a lusty woman whose lust knew no bound. In the consummation of her lust, she happened to be a devout incarnation of love. With the passage of time her lust changed into genuine love. She became a very embodiment of love. At the end of the play she is represented by O'Neill as an ardent worshipper of an unconditional love. The final scene projects that image of her, which is suggestive of the terrible affair of her love.
In Desire under the Elms O'Neill presented that image of women, which is suggestive of the fact that women are driven more by an impulse and passion and less by reason and common sense. Apart from this O'Neill has displayed the terrible side of their passion. In this play O'Neill's female characters are guided by a formidable lust for self-recognition through the process of an emotional dependence upon the male.
O'Neill's characters are seen striving to build of their image not through possessing belief in the beauty of their inner self, but through seeking to submerge and dissolve in the male self. That is why O'Neill's female characters are victimized by the monster of masculinity.
Abbie was kept in the narrow confinement of her wedding with the seventy five years old man Ephraim Cabot. But this restricting limitation failed to check the creeping expansion of her overpowering lust that changed into a matchlessly genuine love.