Othello by Shakespeare: Introduction
One of Shakespeare's most famous tragedies, Othello is concerned with the themes of jealousy and possessiveness, gullibility and blind passion, and the dangers that can arise from a failure to see beyond the surface appearances. Contrasting Hamlet, King Lear, and Macbeth, which deal with the affairs of state and which echo with the universal human concerns, Othello is set in a quite private world and focuses on the passions and personal lives of its major figures, Othello and Desdemona.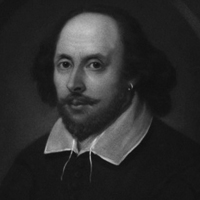 William Shakespeare (1564-1616)
Othello the play has often been described as a "tragedy of character". The plot of the play Othello is one of Shakespeare's most highly concentrated, tightly constructed tragedies, with no subplots and no humor to relieve the tension.
The main outline of the story of Othello relates to a novel, The Moor of Venice. The novel was written by a Sicilian novelist Giraldi Cinthio. As the date of the first performance of the drama goes to 1604, we can assume that it was written during the same year. To some extent, events and the roles of the characters have been modified. Many events shown in the novel have been omitted and others reformulated. New characters such as Brabantio, Roderigo, Montano and some others have been added to modulate the actions to incite interest in a new way. The plot has been designed in a better way. lago has been presented responsible for Cassio's disgrace, and at the same time lago's wife acts to assist her husband unknowingly forming the intricacy of the plot and also acts to resolve, the intrigue finally. Shakespeare's genius can be highly appreciated after critical evaluation of reformulation of the intensity and smooth flow of actions.
Othello is one of the most frequently enacted plays of Shakespeare, and its popularity is perhaps due to the universality of its theme: love and sexual jealousy, the conflict between love and hatred, and doubt and gullibility. The play exerts a 'relentless emotional grip' on its audience. Shakespeare has examined with great psychological complexity and depth the powerful feelings of love and hatred, jealousy and revenge. The intensity of the drama is heightened because all the minor characters and events are designed to highlight the protagonists and their actions. The play is so spellbinding because of the contradictions and tensions it contains: a black soldier marries the daughter of a white nobleman, an evil ensign corrupts a great soldier, and passionate love is turned to overwhelming jealousy. The play gives equal focus to the two main characters, Othello and Iago, in such a way that it becomes almost difficult to students and critics to determine who is primarily responsible for this great tragedy.