What is Blank Verse?
Blank verse refers to the poetic lines that use iambic pentameter without rhyming. Most critics agree that blank verse, as it is commonly defined, frist appeared in English when the Earl of Surrye used it in his translation of books 2 and 4 of Virgil's Aeneid (about 1540).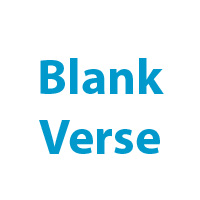 It appeared for the first itme in drama in Thomas Sackville and Thomas Norton's Gorboduc (originally performed in 1561). Over the centuries, blank verse has become the most common English verse form, especiall for extended poems, as it iws considewred the closest form to natural pattern of English speech.Blank verse is favorable in English poetry because the language is naturally rhythmic and it is easy to create rhythms, especially the iambic rhythm. Christopher Marlowe, William Shakespeare, and especially John Milton (particularly in his epic Paradise Lost (1667) are generally credited with establishing blank verse as the preferred English verse form.
Published on 23 Jan. 2014 by Kedar Nath Sharma