What is Kunstlerroman?
This is a category of a novel in with 'novel of the artist' examines the development of the artist from childhood to the point when the subject realizes his or her artistic potential and mission.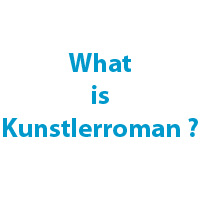 Such novels typically depict the struggles of sensitive protagonist to overcome bourgeois values and other obstacles, thereby realizing this creative potential. Example: James Joyce's A Portrait of the Artist as a Young Man (1916).
Published on 22 Sep. 2014 by Kedar Nath Sharma