The Alba Madonna by Raphael
In the painting entitled The Alba Madonna by painter Raphael, everything is clearly and beautifully painted. The whole globe and the universe are captured by the painter. On the top of the painting is the clear sky with some dots of clouds. The pastoral physical world is used as the setting with mountains and green fields.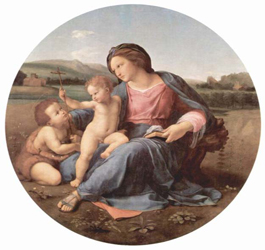 In the middle of the painting there are three human images of a lady, a naked child on the lap of the lady as well as another elder child with furry clothes on the ground. Both of the children are fixing the cross but the look of all of them is very mysterious. The lady has a book on her left hand and one of her fingers is fixed in the middle of the book. Along with the pastoral elements there are also petals of flowers that are in the front part of the painting.
The Alba Madonna is in the Italian language which means My Lady in English language. The Italian Renaissance painter Raphael generally paints on the subject matter of lost human world and the beautiful world of nature. In this painting the lady is Mary, the mother of Jesus Christ and the children are Jesus and John. Jesus is the younger child who is necked and sitting on the lap of the mother while John is out of the lap. It seems that John is marginalized and he seems to be innocently asking the mother whether she equally loves him or not. In the same way the painting suggests the theme of love and mediation, the mother is in love with the children but she seems to be in the serious meditation. It seems that the mother is reading a book while most probably may be the Holy Bible.
There is the disturbance for mother which may be because of the innocent questioned asked by the elder child. The pastoral setting used in the painting with clear sky and the silent natural world ideally support the seriousness of the situation. The nakedness of the child not only suggests his innocence but also tells the reality of the human world. The painting has the contrast between experience and innocence, contrast of colors, contrast between nature and human as well as nakedness and artificial clothing.