The Last Supper by Jacopo Robusti Tintoretto
The painting has complete darkness dominating everywhere. On the top of the painting there is bulb of light and on the both sides of the top there are so many flying images in the painting. There is the supper table with so many human images and among them there is a big halo of light on the head of man who is Jesus Christ.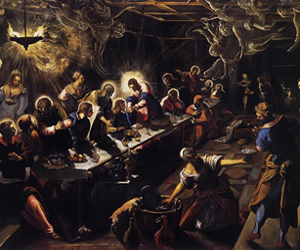 The other people on the supper are Christ's disciples. There are some roughly dressed people in front of the super table and they are totally indifferent to Jesus. There are also some animal and bird imagery painted in the front part of the painting.
The painting is based on the Christian belief related to the last supper of Jesus in which Jesus was given bread and wine, he had twelve disciples participating in the supper and it is also believed that Jesus was preaching the spiritual idea to his disciples. It is also said that his disciples promised Jesus that they would go to the ignorant human world and they would tell the words of Jesus to the ignorant people. The complete darkness in the painting not only reflects the darkness of the evening of the supper time and also symbolizes the domination of ignorance in the human world. The painter has been criticized in this painting because of the lack of realism. It is said that there were twelve disciples in the supper but here in this painting the exact number of the disciples is not reflected. Similarly the painter should have given more light on the face of Jesus and his good disciples. But the betrayer Judah is also not identified in this painting clearly. Leonardo De Vinci had also made the painting on the same title but his painting is more realistic that this painting.
The other aspects in this painting are more realistic, the complete darkness reflects the dominating human ignorance. The roughly dressed people serving the food suggest the world of ignorance and they are not associated to Christ. These people are as senseless as the animals painted in the painting. The flying images on the top suggest the flying angels witnessing the Last Supper of Christ, the son of God. Moreover this painting has the elements of contrast between super human and human, the contrast of ignorance and enlightened as well as the contrast of human and non human.