Charles Dickens - Biography and Works
Charles Dickens (1812-1870) is the best known of all the English novelists. Dickens was the first to introduce to the reading public, life of the poor and the oppressed. He has a very marked sympathy for the poor, and his appeal is to the heart rather than to the head.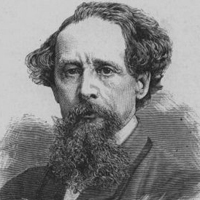 Charles Dickens
Pickwick Papers, Great Expectations, David Copperfield, Oliver Twist, Nicholas Nickleby, Old Curiosity Shop, etc., are among his better known works. His novels capture a great sense of life with an individual oddity. With Pickwick Papers he begins his career as a novelist in the picaresque tradition. In it, taking his characters through various parts of England, he is able to give a sense of the early nineteenth century social scene. Oliver Twist concentrates on specific social ills. The book is full of nightmare symbols of loss, isolation and incarceration. It is also a portrait gallery of physical locations and single incident.
Dickens's moral purpose is not of course meant a single didactic theme, but concentration on some central moral situation often deriving from the author's awareness of the tension between private affection and the apparent demands of a commercial civilization. Dickens explores the relationship between convention and reality, between public and private standards in his novels.
Historians have called Charles Dickens the greatest of the Victorian novelists. His creative genius was surpassed only by that of Shakespeare. Many later novelists were to feel the influence of this writer, whose voice became the trumpet of protest against economic conditions of the age. George Bernard Shaw once said that Little Dorrit was as seditious a book as Das Kapital. Thus, according to critics, Dickens' Hard Times is a relentless indictment of the callous greed of the Victorian industrial society and its misapplied utilitarian philosophy.
In conclusion, Dickens treats the contemporary social situation turning his attention to the morality of the utilitarian industrialist and its effect on the possibilities of human happiness. The relation between gentility and morality rings throughout his work. The effect of financial and social ambition on character takes place in his work. Even in the treatment of the French Revolution, he shows the human foibles and weaknesses. Most of his works portray the relation between the social and economic fabric of society and strengths and vulnerabilities of individuals. As a social realist, he displays the problems of man in the society. His characters suffer in the hands of contemporary social institution. In this sense, he is a social novelist. To him sentimentality was the only way of handling difficult moral problems.