Hard Times by Charles Dickens: Introduction
The scene of Dickens' Hard Times is an imaginary industrial town called Coketown. One of the main characters, Thomas Gradgrind, is based on the Utilitarian leader James Mill (1773-1836); as such, he is an educationist who believes that education should be merely practical and hence factual, allowing no place for imagination.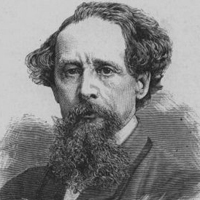 Charles Dickens
He, marries his daughter Louisa to a ruthless manufacturer, Josiah Bounderby, who puts Grangrind's philosophy into practice in that sense he has no place for human feeling of kindness. He never gives importance to emotions since he thinks it is the most useless conduct of his business. Louisa accepts Josiah in order to be in a position to help her brother Tom, who becomes under the influence of his upbringing, unsympathetic, corrupt, and cruelly reckoning. Louisa is nearly seduced by visiting politician James Harthouse, who is cynically concerned only to find amusement in a place with no other charms. The opposition to this world of calculating selfishness is a travelling circus called 'the horse-riding' owned by Sleary. Sissy Jupe, a product of the circus and the human fellowship that is engendered, is found ineducable by Gradgrind, whose dependent she becomes, but she has the inner assurance required to face Harthouse and compel him to leave the town. The Grandgrind's world falls apart when he discovers that he has ruined his daughter's happiness and turned his son into a criminal. A sub-plot concerns a working-man, Stephen Blackpool, a victim of the Gradgrind Bounderby system, and of young Gradgrind's heartless criminality.