Christina Georgina Rossetti - Biography and Works
Christina Georgina Rossetti is of Italian origin. Rossetti was one of the most important nineteenth century English women poets. She was born in London on December 5, 1830. Rossetti was entirely educated at home and she could easily speak English and Italian.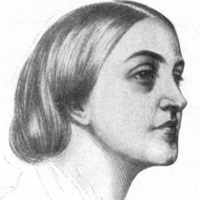 Christina Rossetti (1830-1894)
She also read French, Latin and German. She published seven poems in 1850 at the age of 20 under the pseudonym Ellen Alleyne to the Pre-Raphaelite magazine The Germ.
At the age of 18 she fell in love with James Collinson, a minor Pre-Raphaelite painter, but the engagement ended after he reverted to Roman Catholic. In 1862 she again fell in love with Charles Bagot Cayley. She again refused to marry because Cayley had no firm religious faith. These two broken love affairs are reflected in many of her poems. In some poems a melancholy regret for lost love is mixed with a disturbing obsession with death. Rossetti came to regard life as physically and emotionally painful because she suffered long and frequent periods of poor health. A religious woman at heart, Rossetti remained single throughout her life.
Rossetti's three major volumes of poetry were Goblin Market and Other Poems (1862), The Prince's Progress and Other Poems (1866), and A Pageant and Other Poems (1881). She also published Commonplace (1870), Sing-song: A Nursery Rhyme Book (1872); and Speaking Likenesses (1874), a book of tales for children. But her poetry alone has secured her fame. Goblin Market and Other Poems (1862) contain pure lyric, narrative fable, ballad and devotional poetry. Her poetry is filled with both sensuous details and with religious severity.
From 1871 through 1873 Rossetti was suffering from Graves' disease, which ruined her beauty and brought her close to death. When she improved in health, she turned almost exclusively to religious writing, publishing a number of devotional books: Annus Domini (1874), Seek and Find (1879), Called to Be Saints: The Minor Festivals (1881), Letter and Spirit (1882), Time Flies: A Reading Diary (1885), The Face of the Deep: A Commentary on the Revelation (1892), and Verses (1893). In 1891 she began to suffer from cancer and died, after a long and painful illness, on Dec. 29, 1894, in London.
Cite this Page!
Shrestha, Roma. "Christina Georgina Rossetti - Biography and Works." BachelorandMaster, 2 Nov. 2013, bachelorandmaster.com/biography/christina-rossetti.html.