George Eliot - Biography and Works
Mary Ann Evans whose, pen name is George Eliot (1819-1880) was born in Chilvers Coton, Warwickshire. Her father was a carpenter by profession who later became a land agent. When she was a few months old, the family moved to Griff, and there Eliot lived twenty one years of her life among the people that she later depicted in her novels.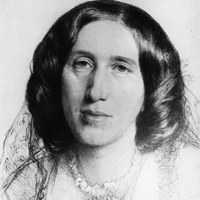 Mary Ann Evans (George Eliot)
She received informal and formal education at home and in several schools. She developed a strong evangelical devoutness at Mrs. Wallington's School at Neneaton. Conversely, later Eliot rejected her dogmatic faith.
Her mother died in 1836, since then she has taken charge of the family household. In 1841 she went to Coventry to live with his father, where she lived with him until his death in 1849. During this time she got a chance to read Charles Hennel's An Inquiry Concerning the Origin of Christianity (1838). The reading of this and other rationalistic works motivated deeply Eliot's thoughts. After her father's death, Eliot travelled around Europe and finally she settled in London. In London she was offered a work as sub-editor of the Westminster Review. Under Eliot's leadership the Westminster Review enjoyed success. She made herself the center of a literary circle. Eliot is a Victorian novelist who represented a wholly different fictional world than that of Dickens or Hardy. She represents a troubled side of a rustic country place where violence sometimes happens as a natural consequences of change. An eagle-eyed novelist, George Eliot happens to focus upon the norms and values through which her character. She puts a greater emphasis upon characterization. While describing about her characters, George Eliot never abstracts her characters from their profession. That means she locates her characters in their profession while sketching their characteristics.
George Eliot not only subjects her characters into a heap of mounting suffering. She points out to the outlet to their suffering. In her novel how a character suffers is less important than how other characters act when one of their own brother or sister is enmeshed (trapped) in an acute suffering To alleviate the pang of suffering, her characters idealize certain values and norms or traditionally descended ethos prevalent in the rustic place. Hence some readers are unanimous in taking George Eliot as a proponent of rustic idealism. In the universe of George Eliot's fictions, the characters happen to aware of their own weaknesses in their attempt to explore the weaknesses of other characters. Through the discovery of other characters' weakness, a character becomes aware of his own weakness. Her charm tors move towards the direction of new change once they realize their weaknesses. Some remarkable characters in her fictions are guided by progressive values. Those values are represented in such a strong way that we can't isolate a character from the norm he represents. But it doesn't mean her characters are flawlessly ideal. Even in her strong progressive characters Eliot sows a small seed of flaw not to poison the personality of her character but to drag the character to the mortal level of existence.
Eliot's first collection of stories, Sense of Clerical Life, appeared in 1858 under the pen name George Eliot. In those days it was considered that writing could be done only by males. She then wrote her first novel, Adam Bede, a tragic love story in which the title character stands for Eliot's father. When many impostors claimed the authorship of Adam Bede, it was then revealed that Marian Evans of the Westminster reviewer, was George Eliot. The book was a huge success. Her other main works are The Mill on the Floss (1860), a story of destructive family relations, and Silas Marner (1861). Middlemarch (1871-72) was one of her greatest novel. It is presumed that it was probably motivated by her life in Coventry. Eliot has merged the story of Middlemarch from a tale of a young doctor and the satirical story of Dorothea and her frustrations. Middlemarch deals with the English life in the early nineteenth century before the Reform Bill of 1832. Her skill of narratives is well judged by Henry James saying that Middlemarch is 'treasure-house of detail.' In the same manner her other work of art The Western Canon (1994) is wholeheartedly praised by Harold Bloom and compared it to Dante's Comedy. For modern feminist readers Middlemarch has been a matter of displeasure. The reason behind it is that Dorothea was not prepared to give up marriage. Adam Bede was published in 1859. The origin of the story plot was from the idea of her aunt Elizabeth Evans, a Methodist preacher who had spent in the condemned cell at the Nottingham jail with a girl. The girl was waiting for execution for the murder of her child.
After Lewes's death, on May 6, 1880 Eliot got married to John Cross, an American banker who was twenty years younger than she. They made a honeymoon trip to Italy and according to a rumor, it is said that he jumped in Venice from their hotel balcony into the Grand Canal, however, he was unharmed. After some time in Italy, they returned to London. She died of a kidney disease in the same year on December 22. Cross never got married again. In her will paper she had expressed her wish to be buried in Westminster Abbey, but Dean Stanley of Westminster Abbey rejected the idea and Eliot was buried in High gate Cemetery. Eliot's interest in the interior life of human beings, moral problems and strains, anticipated the narrative methods of modern literature.