Adam Bede by George Eliot: Introduction
Adam Bede is the first novel written by Mary Ann Evans in 1859 under her pseudonymous name George Eliot. During that time, females are not supposed to come in the profession of writing so she has to write under the pen name though she was highly respected scholar in that time. The novel has been in print since then and has been taught in many universities as the nineteenth century English Literature.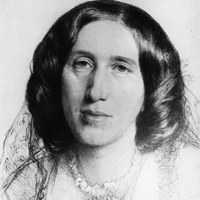 Mary Ann Evans (George Eliot)
George Eliot is acutely aware of those forces which were affecting a gradual transition in society. During George Eliot's time certain changes have been emerging. Those changes create certain ambitious negative forces in people. Pushed by those negative forces, some rustic people deviated themselves from the normal path of living and thinking. Consequently their lives faced lots of troubles and difficulties. George Eliot represents the troubled life of her people. This trouble is actually created either by their own weakness or by certain tempting forces that come from outside. Thus to represent this troubled reality is the primary intention of the novelist George Eliot.
The origin of the story plot was from the idea of her aunt Elizabeth Evans, a Methodist preacher who had spent in the condemned cell at the Nottingham jail with a girl. The girl was waiting for execution for the murder of her child. This experience and event influenced her to write a novel along with other stories. She sketches Adam Bede not by isolating him from his profession, but locating him within his own professional climate. She characterizes Dinah Morris not in an atmosphere of isolation, but within the religious atmosphere of preaching. Likewise, Arthur Donnithorne is also characterized in the atmosphere of his work. This is one of the distinctive specialty of George Eliot. She, as a novelist, is recognized by her own mode of sketching the characteristics of her characters within their professional climate.
Adam Bede is her first experimentation with the new type of fiction that is quite different from other Victorian novelist. For her, like poetry, novels too can express and give didactic lessons about the quality of human life and their condition. Though her work appear less realistic when compared with other modern works, she initiated large steps that helped to allow for the creation of contemporary fiction. Her work was radical and innovative in its time, contributing a lot in the English literature. Her major innovation was rustic realism focusing on the common man.
Adam Bede, a skilled and refined carpenter in the Midland village of Hayslope, is blindly in love with Hetty Sorrel. She is a beautiful niece of the farmer Martin Poyser. The squire of that village Arthur Donnithorne is also inclined to Hetty and she futilely dreams of becoming the squire's wife. Adam notices Arthur's romance with Hetty and tries to intervene, but no effect. Arthur deserts Hetty after seducing her. Adam remains loyal to Hetty even after her desertion by Arthur and she agrees to marry him. But when she finds herself pregnant, she runs from home in a desperate search for her lover. Adam is shocked and he is consoled in his grief by Dinah Morris, a young Methodist preacher. She was proposed by Seth his brother, but his love proposal goes in vain. Hetty could not find Arthur Donnithorne, and the unfortunate Hetty is arrested, charged with the murder of her child and convicted. Dinah becomes her comfort. Adam later marries Dinah.