Moral Concerns in Eliot's Adam Bede
Eliot is very much concerned with moral issues in the novel Adam Bede in the sense that morality is such a ladder from which man can lead to the better life. Eliot didn't believe in art for art's sakes, but in art for morality's sake. She especially talks about virtue and vice.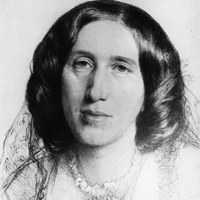 Mary Ann Evans (George Eliot)
For her, the virtuous characters should be rewarded for their moral virtue and who have moral weakness was followed by punishment and suffering. Tragedy occurs because of the temptation and sin which is too far from morality. Adam Bede brings into prominence the moral idealism. The novel tells that fellow-feeling or sympathy has a healing power, a redemptive power. People should extend sympathetic feelings towards their brethren. If friends sympathize with the victim entrapped in acute suffering, he/she can free from the torturous suffering. Adam Bede intends to provide a moral lesson. By sharing suffering, the victim can feel relieved. The well-wishers of a victim should try to understand the inner torture of the victimized person.
Eliot has presented various characters, among them one is Hetty. She always wants to be in her dream world, which has no smell of morality. She is only concerned with her dream of a handsome and rich husband. So, she yields to temptation which leads her to the path of tragedy. She has the tendency of luxury and pleasure seeking. Her all lovely dreams shatter at last. She has no guiding principle to follow. Although she has attended church regularly, she has not absorbed a single Christian idea. Hetty Sorrel is put in prison on the charge of killing a baby. She is in an acutely painful mood in the prison house. Arthur Dounithorne comes back to Hayslope to perform the funeral rites of his grandfather. He comes to know about Hetty's predicament in prison. Arthur tries to do everything in his power to free her. By that very moment Dinah Morris also comes to the prison to see Hetty. Dinah Morris prays with Hetty to open up her heart and tell the truth. Finally, poor Hetty breaks down and confesses everything that had happened since she left Hayslope. She had not intended to kill her baby. In fact, she has not actually killed the child. Two days later, Donnithorne, filled with shame and remorse, brings a reprieve. Hetty's sentence is commuted to deportation. Hetty gives free rein to her passion. That is why her life becomes a living hell.
Like Hetty's story illustrates the moral truth of sin and so she is the character of Arthur. He too is a man of weak moral fiber, yields to temptations as a result, he also becomes the miserable, wretched and repugnant character. So, both Hetty and Arthur suffer from the deep spiritual anguish because they lack morality in life. By portraying those characters, Eliot wants to suggest that who have moral weakness is followed by such punishment and pain. Actually, George Eliot wants to show the dark consequences of pagan Hellenistic tradition, chiefly, represented by Hetty Sorrel and Arthur Donnithorne.
Dinah Morris represents another brand of moral idealism George Eliot intended to inculcate her and her life stand for the realm of sensuality and passion governed by temperance and virtue from the upper realm of religion. Only by tempering and restraining the galloping emotion and passion, life can achieve- the desirable level of true happiness. Dinah Morris understands herself. She brings her life to a successful end. Dinah is too virtuous girl. She serves as one of the best examples of good morality. She has been presented as a preacher, but also a priest, as a father confessor to whom poor Hetty confesses her sin.
Another moral character is Adam. He believes in the virtue of hard work. Work is religion and worship for him. He remains morally perfect from beginning to end. He treats everyone with respect. In the days in the upper room before Hetty's trail, Adam learns to identify with the sufferings of others from his communion with parson Irwine and Bartle Massey. He supports and stands by Hetty as she is sentenced. He consequently becomes a more caring son and brother as well as a fit husband and father. He thus emerges as a Venerable Bede, who embodies the moral earnestness of the Hebrew tradition. Adam's vision of bettering the world sounds somewhat moralistic.
Mr. Irwine is also genial clergyman. He is also a fine and upstanding man who forms the other example of excellent morality. He is also spiritually unselfish. Dinah represents the ideal goal by her experience but Mr. Irwine represents the realistic one. In this way, Eliot's serious characters are envisaged exclusively in their moral aspect. By portraying these characters like Adam Bede, Dinah and Mr. Irwine, Eliot wants to suggest that the virtuous character should be rewarded for their moral virtue. They became successful people in their life because of moral sense. So, Eliot has highly focused the contemporary concept of morality by keeping the moral sense at the entries together with the characterization of the characters like Adam Bede, Dinah and Mr. Irwine etc.