Study of Female Protagonist in Eliot's Adam Bede
Hetty Sorrel in Eliot's Adam Bede is the main representative female protagonists in the novel. Adam Bede includes the holistic story of the suffering and at last the most successful female protagonist. One of the very common conditions of the protagonists is the reference of the contemporary society.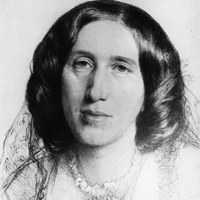 Mary Ann Evans (George Eliot)
The image of contemporary society gives clearer vision about the females during the contemporary period by portraying the female protagonists. The depiction of Victorian society in regard to the female protagonist is most striking aspect of the novel.
Hetty Sorrel is the niece of Martin Poyser. The novel Adam Bede is by and large the story of her suffering. She is the central figure in the novel and one of the most successful female figures of the novelist. She was forced to face great pain and her lovely dreams ended in tragedy. The parting with Arthur was a double pain to her. Hetty's girlish happiness died on the night that she received Arthur's letter of farewell. She thinks of suicide, but has not the courage to do it, and so wanders along, she can't return home. Even marriage with Adam is out of the question to her. Hetty's misery is the primary misery in the novel. When Hetty is under arrest it is for her own cause, she compels to weep her sufferings and anguish is out of all proportion to her guilt. Her pretty sensuality is beautifully rendered everyone in the novel who meets her feels it and so does the reader. Hetty has to suffer because she has fallen a victim to it herself and arouses it in others.
According to Henry James, Hetty Sorrell is the most successful female figure. Except her all other prominent characters are idealized. Even Dinah Morris is represented as a woman who was subordinating her womanhood to the higher religious pursuit of her. Adam, no matter how hard-working and sincere, is also idealized. Hetty Sorrel alone is such a character who is not restricted by G. Eliot's deliberate intention of idealization. She acts upon impulse. She lives in the world of fantasy. She dares to cross the barrier of the social chasm by trying to marry a man who is above her in many things. Her life is undeterred (disturbed) by the passion for religion. She does not try to understand how, able she is, what background she comes from and who she is. To dream a dream to be a wife of a feudal lord's grandson is a tall dream. It is this dream she dreamt that makes her a distinctive character. Her sensual and sexual pursuit and her affair with Arthur enable her to think and move above the class distinctions. Her dignity and her being twinkles in the wake of her tragic moment. Hence, she is one of die most successful female figure in 'Adam Bede'.
The most self-assured female character in Adam Bede is Dinah Morris, who introduces herself to Lisbeth Bede in Chapter Ten, stating: "I am Dinah Morris and I work in the cotton-mill when I am at home." Dinah is projected as a very confident female preacher. The major cause of her rejection of marriage is that she thinks it will curb her religious teaching. But later on, her dilemma is solved by Eliot in such a manner that the readers find it justifiable. In fact, she is not restricted to marry from her religiosity, but the reality is that she was not proposed by the right man she loves. Indeed, she turns to be a housewife at the end of the novel.
Another strong female character in Adam Bede is Mrs. Poyser. She is shown as much more intelligent and smarter than her husband, Mr. Poyser. She has a balanced control over their farm than her husband does. She is not afraid to speak in front of the people whom the villagers fear of. She is bold enough to express her views clearly.
The question of female identity is often at the center of George Eliot's novels. Though the novel is named after a male Adam Bede, though she herself has to hide her real female identity as an author, she successfully portrays the strong female voices in her novel compared to the male characters.