Adam Bede by George Eliot: Summary
Dinah Morris is a Methodist preacher who arrives in Hayslope, a small village in England to provide her service to the villagers. Mr. and Mrs. Poyser are her uncle and aunt with whom she has been living in Hayslope.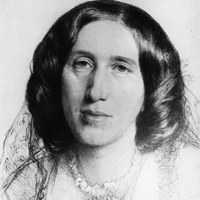 Mary Ann Evans (George Eliot)
Seth Bede and Adam Bede are brothers and work as carpenters. Seth loves Dinah, but she rejects his marriage proposal. Seth's brother, Adam Bede is a foreman at the carpentry shop which is owned by Jonathan Burge. Adam Bede is presented as honest, laborious, gentle and respected flung carpenter. Jonathan Burge wants to make Adam as his partner and also marry his daughter, Mary. But Adam on the other hands likes too much to Hetty Sorrell, who is Mr. Poyser's niece, lives with the Poysers and helps with the chores. But Hetty desires to another handsome captain Arthur Donnithrone.
At the same time Adam's father dies and Adam becomes the source of dependent ever for her mother too. He possesses double responsibility. Their mother, Lisbeth, is too worried so Dinah as a preacher goes to comfort her, and she is able to pacify her where no one else can. Lisbeth wishes that Dinah could be her daughter-in-law. Both Adam and Seth have a disharmonious love relation at the opening part. Dinah being a preacher sees the impossibility in her marriage to Seth.
Captain Donnithorne flirts secretly with Hetty after first meeting her at the Poysers. They have managed to meet in the woods. They see each other in the woods many times. They even develop a sexual relationship with each other. Captain Donnithorne has to leave Hayslope to rejoin his regiment. Hetty is sure that Captain Donnithorne will marry her and make her dreams true. Although she does not exactly love him, she loves the wealth and privilege he represents.
Captain Donnithrone comes to Hayslope and his father manages to celebrate his birthday, where Adam is respected and offered to sit on the captain's table. Adam notices that Hetty is wearing a locket that Captain Donnithorne possesses. He becomes doubtful that she might have a secret lover, but concludes that it would not be possible for her.
On the last night of Captain Donnithorne in the town, Adam sees him kissing and embracing Hetty in the woods. When Adam makes noise Hetty goes away from there. Adam becomes furious and he knocks him unconscious. Captain Donnithorne tells a lie to Adam that the affair has been just a little flirtation. At his response, Adam tells him that he must write a letter to Hetty informing her that the affair is over. Captain Donnithorne does as per the wish of Adam, and he delivers the letter.
Hetty being pricked by the sense of losing her lover accepts the marriage proposal of Adam. But gentle and poor Adam tries to post pond the date of his marriage until he will make an extra room in his home. By the time Captain Donnithorne leaves, Hetty is pregnant, although neither of them knows it.
By pretending to meet her sister Dinah, Hetty goes to meet captain Donithrone. But she couldn't meet him because he had already gone to Ireland. Being far from home Hetty gives the birth of a child fathered by captain Donnithorne, in Sarah Stone's house. After giving the birth of a child fathered by the captain, Hetty leaves the child in the forest and goes on. But she is arrested for murdering her child. The captain Donnithorne on the other hand learns all the situation of Hetty, because of his cause when he returns in Hayslope for his grandfather's funeral from Ireland. When Dinah, Hetty's sister visits Hetty in the prison, Hetty says that she hadn't killed the child intentionally rather she had wished to kill herself. At the very critical situation of Hetty's punishment, captain Donnithorne appears and releases Hetty from execution. He takes Hetty in another country. Hetty dies a few years later in while coming back to England.
Dinah on the other hand finds herself drowning in Adam rather than Seth. Adam realizes that he is in love with Dinah. He proposes, but at first she rejects his proposal. Later she feels that it is God's will for her to marry Adam. They are married, and they give birth to two children. Seth lives with them and he does not marry. Captain Donnithorne eventually returns to Hayslope, and he and Adam meet stay friends despite all that has come between them.