Joanna Baillie - Biography and Works
Joanna Baillie was a Scottish poet and a playwright, born as the daughter of mother Dorothea Hunter Baillie and father Rev. James Baillie in Bothwell, Lanarkshire, Scotland. Very few women writers got recognition during her time, but she became exception as she was famous both in English and Scottish literature.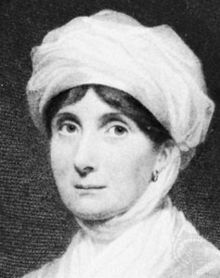 Joanna Baillie (1762-1851)
Her father was regarded as one of the influential personality of the Scottish enlightenment and he was associated with the 'common sense' school of philosophy.
Baillie, in disguise, published her first collection of poems called Wherein it is attempted to describe Certain Views of Nature and of Rustic Manners; and also, to point out, in some instances, the different influence which the same circumstances produce on different characters in 1790. It was written for the common people and most of the poems are written in English. In 1798, she again published anonymously her first book of plays named Plays on the Passions. When one of her plays was performed in 1800, her true identity was revealed. Then only she published her second volume of Plays on the Passions in 1802 with her real name. Her next work Miscellaneous Plays was published in 1804.
She started writing songs to be sung with the Scottish, Irish and Welsh tunes for a song collection by George Thomson. Her songs played very prominent role in the revival of the Scottish ballad revival. Her all the songs were published in Thomson's Collection of the Songs of Burns, Sir Walter Scott, Bart. and Other Eminent Lyric Poets (1822). Baillie's reputation brought her to the level of the romantic poets like Southey, Wordsworth and Coleridge.
She composed some famous poems like Metrical Legends of Exalted Characters, the collection Poetic Miscellanies, Lines on the Death of Sir Walter Scott, Fugitive Verses, and her final published collection of poetry Ahalya Bee. A Poem. She edited A Collection of Poems, Chiefly Manuscript, From Living Authors just to help one of her friends who was in financial crisis.
She was praised for her excellent plays that remained original and for her poetry that was filled with her intelligence and integrity. Her dramas deal with the psychological aspects of men who physically show that they support female in all the arenas of the life. Whereas her poetry is found dealing with the issues of identity. She was ranked top among her contemporaries because of her new way of looking into the world of poetry and plays. Some of her works were translated into German, some of her plays were popularly performed in the United States and the Great Britain.