Song: Woo'd and Married and A by Joanna Baillie: Summary and Analysis
Joanna Baillie's poem Song: Woo'd and Married and A is based on the marriage tradition. She questions male romanticism although indirectly. The central character of the poem, the bride complains that she is poor and poverty has become the cause of her sorrow.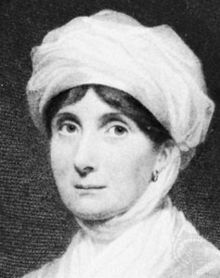 Joanna Baillie (1762-1851)
On the surface, it is the poem of bride and family. But this poem is finding the basic components of the family. Her mother and father join the song asking their daughter not to complain and worry much about the riches. Bridegroom tells his bride (wife) just to blink her eyes and sit by side then he will be rich despite the empty coffer. It is at this moment central argument of the poem becomes clear. It is through marriage, family is constituted and for a family to run smoothly wealth is necessary. But the definition of wealth is not based on property and richness, but on emotions, feeling, love and sentiments. These feelings bind the members and constitute the family, which is the rich family.
Baillie further analyses happiness of the family members through the response of the bridegroom. Her husband has not given her wealth and property, but has spoken kindly and loved her simply and in his well-chosen wealth she finds the happiness. The happiness of the family members lies in the small things and comparison of bride with hare shows the degree of excitement has come out of few words.
On the whole, this poem Song: Wood and Married A is indicating towards the unity of the loved ones i.e. family. Features like self-reliance and individualism and traditional romanticism do not exist here as there is no mention of isolation. The female romantic poet Joanna Baillie seems to go beyond the perimeter of traditional one and draw the new lines of her own creativity. The new boundary includes co-existence, loyalty, obedience, love, trust and the real wealth i.e. family. Existing without your loved ones cannot be a life, but dying with them does matter which actually is a life.
When male romantics were highlighting the high sounding words, imagination, creativity, subjectivity, nature, legendary space and so on but female romantics were focusing on family happiness, mutual trust and so on.