Nora Ephron – Biography and Works
Nora Ephron was born in New York City, to a Jewish family as the eldest of four daughters. She graduated from Beverly High School in 1958, and from Wellesley College in Wellesley, Massachusetts, in 1962. Ephron first started her career as an essayist with her articles collected and published in 1970's Wallflower at the Orgy and 1975's Crazy Salad.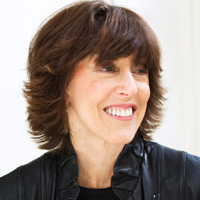 Nora Ephron (1941-2012)
Ephron wrote Heartburn (1983) as her first novel later made into a film. Ephron shifted her career from essayist to writing the screenplay in 1983 for the drama Silkwood (1983), when Harry met Sally (1989) and Sleepless in Seattle (1993). Ephron as a screen writer, producer, director, journalist, playwright and author is best known for her romantic comedy films. Nora Ephron died from pneumonia, a complication resulting from acute myeloid leukemia (AML) on June 26, 2012.