The Hurled Ashtray by Nora Ephron: Summary
The writer heard a story about a famous American actor Gary Cooper (1901-1962). Cooper was in a restaurant in London with his friends. A group of young boys were teasing Cooper's lady friend. He went close to them and threatened them. Being frightened of his height and words, they all went out.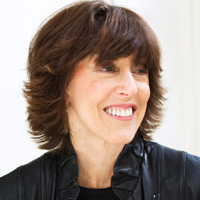 Nora Ephron (1941-2012)
A few days before, the writer was sent an excerpt from Michael Korda's book. It was written that Mr. Korda, Mrs Korda and a woman were dining in a restaurant in London. A group of drunks teased Mrs. Korda and sent her a vulgar card. Mr. Korda tore the card and threw an ashtray at the man. A quarrel followed and then the three came out. But Mrs. Korda was angry with her husband.
She threatened that she would leave him if he behaved like that again. She said that she could defend herself, and that he had taken the right of deciding for herself. Mr. Korda later concluded that his wife's reaction was right.
The writer's reaction to the story, which she sent to the editor, was that nobody would write her a note like that. But later she started to think about the story. She came to the conclusion that either it was all the result of the women's movement or new rules of behaviour had to be written after the movement. Then she asked for four of her friend's reaction. The first, a man, said that Mrs. Korda was right. Then second, a woman, said that Mr. Korda's behaviour was natural. The third, a man, said that both of them behaved badly. The fourth, a woman, said that it was as bad as the fight between a passenger and a taxi-driver.
Before discussing the story seriously, the writer thinks we should have a lot of information about the Kordas, the situation in the restaurant. There might have been many factors behind the incident. But the writer offers some aimless thoughts. First, Mrs. Korda alone was not involved in the incident. Her husband was equally disturbed and insulted. If Mr. Korda had consulted his wife, or if he had only threatened the drunks, it would have been better. But Mrs. Korda's reaction made the situation boring. The writer thinks that a feminist would not be sad if the woman were equally treated by her husband, not as possession, and that she would like to be taken care of by her husband. Since the drunks were fools, it would have been better to be completely cool. If the writer felt truly insulted, she would display some wild gesture. She would have allowed her husband to handle the situation. He might have behaved like Gary Cooper or asked the restaurant captain to move their table. The writer preferred to send the drunks a card reading that they were very sorry because they had other plans.