Robert Burns - Biography and Works
Robert Burns (1759-1796) was born in Scotland. The son of a poor farmer, Burns became Scotland's national poet. At his father's death in 1784 he continued farming in partnership with his brother.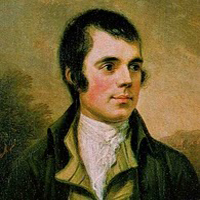 Robert Burns
Bad crops and an unfortunate love-affair with a mason's daughter made him resolve to emigrate to Jamaica. This plan was, however, overthrown by the sensational success of his poems, which he had published in Kilmarnock in 1788. Celebrated in Edinburgh as "a heaven-taught ploughman," he settled in Dumfries (1791) an excise-man. Having ruined his health by his association with the hard –drinking gentry of the district, he died of a rheumatic fever at the age of 37. The language of most of his poems and songs is Lowland Scots ("Lallans"), a mixture of Scots and Southern English.
Most of Burns' poems were written in Scots. They document and celebrate traditional Scottish culture, expressions of farm life, religious and class distinctions. Burns wrote in a variety of forms: epistles to friends, ballads, and songs.
His best-known poem is the mock-heroic Tam o' Shanter. He is also well known for the over three hundred songs he wrote which celebrate love, friendship, work, and drink with often hilarious and tender sympathy. Even today, he is often referred to as the National Bard of Scotland.