Oh My Love is Like a Red Red Rose: Robert Burns - Summary and Critical Analysis
The beloved of the speaker in the poem Oh My Love is Like a Red Red Rose by Robert Burns is as beautiful as the red rose newly bloomed in the month of June. She is as sweet as the music played in tune.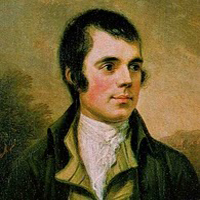 Robert Burns
The poet loves his girlfriend as deeply as she is beautiful. He will love her till all the seas become dry and the sun melts the rocks. He loves her as long as he lives. Now he says good-bye to his beloved and promised to come even from ten-thousand miles away.
This poem is a famous lyric abounding in figures of speech. This poem forsakes the lady to glory in Love itself. We are dealing, in other words, with romantic love, in which the beloved is a means to higher emotions, and physical separation can serve as a stimulant to ideal passion. The emotion of the poem is "Self- enchanted," the presence or absence of the lady isn't important, and the very idea of parting is mainly an opportunity for the poet to turn his feelings loose. Absurd as this posture may be however, we ought to forgive a great songwriter almost anything.