Love by Samuel Taylor Coleridge: Summary
The poem Love is one of Coleridge's most interesting and beautiful love-poems. It is written in the form of a ballad and describes a story within a story. The poem's composition was originally involved with that of the 'Tale of the Dark Ladie', to which it was to have been an introduction. Genevieve, the beloved in this poem, is a creature of the poet's imagination, though some critics identify her with the daughter of the poet's school-nurse.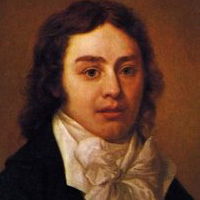 S. T. Coleridge (1772-1834)
The poem illustrates Coleridge's deep knowledge of human psychology. He describes very minutely the changing emotions of his Genevieve at listening to the different stages of the Knight's love with the Lady of the Land. Her emotional reactions to the story are very delicate and subtle, and the poet succeeds in describing them minutely and accurately. The poem beautifully illustrates many of the best qualities of Coleridge's poetry. It is a dream poem which is remarkable for its sweet music, enchanting melody and his minute observation of natural phenomena. Some of the word, pictures, found in the poem, are very vivid and appealing.
The poet had a great love for Genevieve. Once in the evening time, when the moon was climbing up the sky, he lay midway on a hill beside a ruined tower. He quite often recollects that happy time. The moonlight was slowly and stealthily spreading over the scene. And in such a beautiful and romantic atmosphere the poet's beloved, Genevieve, was also present and enhancing its beauty. She leaned against the statue of an armed Knight. She stood there in this manner and listened to the poet who began to play on his harp and sing an old song in the lingering twilight.
Genevieve was perfectly innocent and happy in her life. She had no sorrows of her own. But she was full of tender feelings of sympathy for others' sorrows, and therefore loved the poet best whenever he sang sorrowful songs before her. The poet played a sweet and sorrowful tune, and sang an old song which described a very pathetic and moving story. Though she listened to his song with a flitting blush and downcast eyes, she was all the time conscious that the poet was gazing at her face.
The poet now begins to sing the pathetic story of a Knight who carried the mark of a burning torch on his shield. He had a deep love for a lady who rejected his love. For ten long years he continued to love that lady, but that lady always treated him with a cruel scorn. He pined in her love. The poet narrated the story of that knight in deep, Iow and pleading tone and thus expressed his own love for Genevieve. Genevieve continued to listen to his song intently and forgave him for gazing too lovingly on her face. This is the first indication that Genevieve begins to yield to the poet's love.
The Knight had a deep love for the lady, but she did not care for him. Her cruel scorn towards him drove him mad. He left his home and wandered into the lonely woods, without taking any rest day and night. A fiend in the shape of a beautiful angel came there and tried to tempt the knight. But the knight immediately realized that it was a fiend not an angel, and did not yield to temptation. He remained firm and constant in his love for that lady.
Once that lady accidentally fell into the hands of some ruffians who wanted to molest her. The knight saw it and heroically saved that lady from the clutches of those ruffians. When that lady saw that her rejected lover had risked his life and saved her from the worst dishonor, she repented for her past cruelty towards him. She nursed him day and night and tried to remove that scorn from his mind which had driven him mad. But it was too late. She could not save him. All her efforts proved useless. His madness, however, went away and his senses returned to him when he lay a dying man on the yellow forest leaves.
The poet now reaches the most pathetic part of the story-the last words of that knight spoken to that lady just before his death but he could not narrate it immediately. His voice faltered and his harp stopped. The soul of Genevieve was also disturbed with pity. She felt hopes and fears which came into her mind in so quick a succession that one might be taken to have caused the other. She even gave expression to her feelings of love for the poet which she was cherishing and concealing for a long time. Now she could not control herself, or suppress her feelings. She wept with pity and delight. She blushed at expressing her love for him, and felt the shyness befitting a virgin. The poet heard her speak out his name slowly and faintly.
Genevieve started breathing heavily and quickly with intense passion. Her bosom rose and fell. Then she became conscious that the poet was gazing at her and she stepped aside. Her virgin modesty would not allow her to yield so quickly. But her love proved too strong to be controlled at the moment and she rushed towards him, fear in her eyes and began to weep. Then she almost enclosed him in her arms, and gently hugged him. She bent her head back and gazed upon his face. Her look expressed partly the feeling of love and fear, and partly a maiden's artifice, or a trick of the eyes to show love. She did not allow the poet to see, but the poet felt that her bosom was heaving against his heart. In this manner she expressed her love for the poet. But she was still afraid. The poet removed her fears and comforted her. She was then assured and felt easy in her mind. She then expressed her love for him more openly, but with virgin pride. And in this manner the poet won Genevieve, his bright and beautiful bride. The story of that miserable knight made him win the love of Genevieve. The poet sang of another's love to express his own love for his beloved, and ultimately succeed in winning love. Thus the poem ends on a happy note.
Cite this Page!
Shrestha, Roma. "Love by Samuel Taylor Coleridge: Summary." BachelorandMaster, 9 Nov. 2017, bachelorandmaster.com/britishandamericanpoetry/love-summary.html.