Samuel Taylor Coleridge - Biography and Works
Samuel Taylor Coleridge was born in rural Ottery saint Mary Devonshire in 1772. He is considered to be the great romantic poet who was precociously dreamy, imaginative, enthusiastic and eloquent even as a schoolboy. Attending Jesus College, Cambridge, as an already well-read scholar, at the age of nineteen, he found little that intellectually stimulated him there, and became a dull, dissolute and dissatisfied student; as a young man (in debt) he escaped and joined the army! He was forced back to college, but he never took any degree anyway.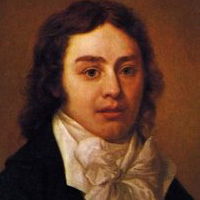 S. T. Coleridge (1772-1834)
He was vexed by terrible pains and diseases (throughout life) and was eventually addicted to opium, which he took as 'anodyne' (painkiller) in the beginning. He always suffered from guilt, anguish, nightmares, a bad marriage, and despair of not being able to be poetically productive. But his collaboration with Wordsworth on the project of the Romantic poet revolution gave him a blissful relief, and some success and means of living. After publishing Lyrical Ballads, the two poets toured Germany, where Coleridge attended a university, studied Kantian and Post-Kantian philosophers and critics who became profound influences on his philosophy, religion and aesthetics.
But because of his illness and pain, his works were produced sporadically and in fragments. Most of his potential went unrecorded in his lectures and the conversations he gave to innumerable listeners who came from England and America to his residence at Highgate. Though his mind was always active and fertile, he was not so productive. Besides, he has been charged with plagiarism. But even the very few works that are commonly read have placed him among the greatest English poets.
Wordsworth's influence on Coleridge was as much moral as literary, because it roused his irresolute nature to activity, and inspired him with confidence and energy. For some time, at least, he was free from domestic anxiety and happy in this company which made him rise to the zenith of his poetical career. This happy and close companionship lasted for only a short period, i.e. from June 1797 to September, 1798, but it was during this period that Coleridge wrote almost all his best poetry, The Ancient Mariner, The Nightingale, the first part of Christabel, Love, The Dark Ladie, Ode to France, Fears in Solitude, Frost at Midnight, and Kubla Khan. But this brief period, just as it marks the culmination of Coleridge's poetical career, virtually marks its end as well. Only two poems of a later date can be grouped with his best poetry—the second part of Christabel (1800) and the melancholy Ode on Dejection (1802). Afterwards Coleridge became a critic and a philosopher. Ode on Dejection illustrates his sadness and frustration for the loss of poetical powers with all its bitterness and intensity.
Coleridge shares the general feature of Romantics like simplicity of language, originality of thought, flight of imagination, liberal expression, love of nature, humanitarian outlook, and so on. Beside these, he has his own distinctive features. The use of supernatural elements is the most prominent one. Coleridge makes use of supernatural characters and incidents in his poetry, but the supernatural elements do not obliterate the natural and reasonable aspects of the story of description at hand. We always fine a 'semblance' of reality because he connects the supernatural with the truth of human emotions. Thus, he makes us 'willingly suspend disbelief'. The gothic romances also presented supernatural elements in their novels; they produced mystery and horror by artificial devices such as noise and thunder or mysterious settings and events. Unlike those writers, however, Coleridge presented supernatural as psychic phenomena and to him it is only equivalent to the mystery of life. Coleridge's romanticism is different from the romanticism of Wordsworth. Wordsworth is a nature poet. For Wordsworth, Nature is endowed with personality- "the mighty being". He regards nature as a teacher, a companion who never betrays its worshipper. Though S.T. Coleridge is also a romantic poet, but he is more about the poet of the subconscious or unconscious; a great poet of the supernatural; who is adept to give a psychological turn to supernatural happenings. He conjures up a suitable atmosphere before the actual presentation of supernatural happenings.
In 1795 Coleridge married Sarah Fricker. At this time he was struggling to earn a livelihood: he delivered lectures on various topics, literary and political, preached in Unitarian pulpits and published his first volume Poems and various Subjects in 1796 for which he got thirty guineas from Joseph Cottle. He also started a magazine called The Watchman devoted to politics and literature, which for various reasons came to an end with its tenth number. Meanwhile, domestic anxieties and depression of spirits brought on attacks of neuralgia, and it was probably at this time that he began the use of laudanum (opium) as a relief, a habit which was to mar his best years and indeed the whole of his life.
Cite this Page!
Shrestha, Roma. "Samuel Taylor Coleridge - Biography and Works." BachelorandMaster, 18 Nov. 2013, bachelorandmaster.com/biography/samuel-taylor-coleridge.html.