Characterization of Mrs. Nora Helmer
Nora is the central character on whom the play revolves around. She is a daughter of a dying person. She is wife to Helmer, a moral orthodox and conventional person. Nora appears from the beginning to the end of the play. In the beginning, she appears preparing Christmas with full hope. Even since the marriage, she has been in financial shortage.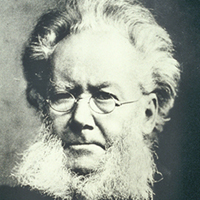 Henrik Ibsen (1828-1906)
However, this Christmas she expects with enthusiasm. She never cares to borrow money. She is making preparation bringing the necessary things. She accepts herself spendthrift as her fate.
Nora follows her husband's decree in the household affairs. She bears his domination in each and every act thinking that she must be responsible for the family. She never wishes to go against him. She is totally careful to his taste, his likes and dislikes. She tries to please husband by being a more songbird.
As the drama develops, Nora's past life is revealed. When Mrs. Linde comes to her. Nora feels proud of her act. As a loving woman, she shows her sacrifice to save her husband. However, she does not intend to disclose the fact, since Helmer is reluctant to taking a loan. She keeps the secret. However, when Mrs. Linde becomes intimate, she discloses her past.
Nora is compromising. She is truly adaptable without any sense of self egotism. She is quite careful with her children, when the children come, she plays with them as a friend. She is quite friendly to Mrs. Linde and sympathizes her. She even persuades her husband to offer a job to Linde. She is quite sincere to Dr. Rank who is her close friend and admirer. She never shows any sense of conflict.
A new mode takes place in Nora's life when Krogstad threatens to disclose her past. She appeals for mercy. This greatly shocks her. She is not much conscious of her life, but she is more dejected what consequences it will bring in their family life. Nora is a social and enduring lady. She tries to face her problems by herself. She does not open up the secret even she is constantly threatened. She tries her best to settle the problem herself. As the matter goes from bad to worse, Nora discloses it to Mrs Linde and Dr Rank.
Nora has some self-wisdom. She is not orthodox as her husband and lawful as Mr. Krogstad. She believes in practical conscience of human beings. She does not care whether it is right or wrong to save the life of her husband and father form legal point of view. As she states ''I don't know much about the law, but there must be something.'' She does not consider the law as sufficient which stops someone saving the life of the husband.
Some inevitable troubles occur in her life when Helmer finds her involvement in the forgery. He curses her outspokenly. Nora feels guilty of her husband's pride. However, when his attitude changes after he reads the second letter. Nora is greatly upset. A sudden courage and enlightenment takes place in her life. She knows her self-importance. She hates her husband's dual standard. She hates her husband and prepares to take something seriously. Nora turns to violent in temper. She never compromises her husband and declares to leave the house in the dark night. She despises all duties including the duty of a wife. She is mother destined to her own duty to herself. Helmer tries to persuade her with some excerpts of religion and morality. She boldly refuses as saying: ''I am no longer prepared to accept what people say and what's written in books. I must think things out for myself, and try to find my own answer''.
Despite constant efforts to stop her, she leaves the house finally. Nora's characterization has been dealt in many angles. Women activists join her character as women's role against prevailing society. Some other interpreted in another way. However, Nora in terms of the play is a character of practical conscience. She emerges a new reality. She puts herself in between conventional morality and individual life of a human being. She should be studied as a human being instead a female character in the play.
A Doll's House Study Center
Signification of the Slamming of the Door in A Doll's House
Nora's Identity as a Person in A Doll's House
Parallelism and Contrast in A Doll's House
The Plot Construction in A Doll's House
The Significance of the Title A Doll's House