Detailed Summary of Ibsen's A Doll's House
The total dramatic procedure of A Doll's House takes place in an apartment in a city of Norway. The sitting room of the apartment becomes the focus where everything happens. The play opens in the late afternoon of Christmas Eve. Nora the major character of the play arrives after a heavy Christmas shopping. The sitting room has been tastefully furnished and exquisitely well-decorated. The room is almost packed with various articles of furniture and the walls are finely engraved.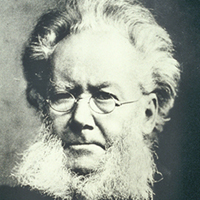 Henrik Ibsen (1828-1906)
Act I
Nora enters into the room humming contentedly. She looks happy because she has been offered abundant money for shopping.TrovaldHelmer calls her from inside using sweet, but condescending words. The opening dialogues between Helmer and Nora show that their relationship is one of the conventional types.Helmer is a typical husband - a formation of a convention. He acts like a patron, a provider, a guardian and a doll-master. The little "skylark" on the other hand is a typical submissive female-passive fragile, a sluggish thing to be played about and protected. Along with the parcels of things and charismas tree, Nora has brought a bag of macaroon the forbidden thing.
In the eyes of Helmer, Nora is a helpless baby to be taught at every step. She is a dangerous spendthrift who would possibly make him bankrupt. It seems that Nora's thirst for money is never quenchable; she wants nothing but money evenas a Christmas gift from Helmer. A moment later, we are told the actual reason behind this need.
Through Helmer-Nora interaction we also understand that they have been living a frugal married life for eight years. As a lawyer, Helmer has had uncertain income, sometimes not sufficient to manage the domestic expenditure. An unprecedented domestic joy has been evoked by Helmer's recent appointment as a bank manager, but he would be drawing his fat income only after a month. Nora suggests that they can borrow and make theircharismas a grand celebration but Helmer's moral uprightness and a keen sense of social status forbids the idea ofborrowing.
Mrs. Linde, a school day friend of Nora arrives for an unexpectedvisit. Nora- Mrs. Linde meeting is quite significant from the point of view of dramatic revelation. Noraknows that Mrs. Linde was married to a rich businessman, but since her husband died bankrupt, he has left nothing for her sustaining. Mrs. Linde has come to visit Nora because she had heard about Helmer's professional advancement and upon the expectation of being offered a job; the widow has made a long journey. Mrs. Linde's married life was not a happy one she married under economic pressure that she had to take care of bed ridden mother and two young brothers. She married the business man not for love, but upon the expectation of getting economicsupport. MrsLinde calls her life heroic and talks about it in a glorious way. For her, Nora is just a pampered baby wife of a rich man. This misjudgment is too much for Nora because in her own judgment, she is not less heroic. In fact, during eightyears of married life Nora has done something that a normal woman dreads doing. Without Helmer knowledge, she has become a heroic savior of his life. It is revealed that Helmer was once deadly ill and the doctor suggested Nora that the only way of recovery would be to take Helmer to the hotter climate of the south. Helmerhimself did not know how seriously ill he was. Nora borrowed a heavy sum of 250 pound secretly and urged Helmer for some weeks outing to the south. Since then, Nora has been working hard and saving every penny to pay the installments. She does not know how much she has paid, but joyously anticipates that the debt will soon be squared off after Helmer's new income arrives home. For Mrs.Linde, Nora's revelation is too incredible. The readers begin to realize that Nora's assumption of babyish role is only a pretense.She is in fact a brave woman.
When MrsLinde's case is put before Helmer, he at once agrees tooffer her a job because as the first executive decision, he is going to dismiss a man of moral defects from his office.Krogstad, a clerk in the bank and also Nora's money lender, happens to be the victim of Helmer's moral uprightness. The only way he thinks of recovering his position is to coax and if needed, threat Nora to use her influence upon her husband. He arrives and explains Nora the nature of the crime she has committed and also the parallel nature of his crime that he committed long ago and on the basis of which Helmer is going to punish him. Both have committed forgery. Nora has forged other's signature to protect her father from the anxiety of death bed and to save her husband's life. Krogstad did his part to feed his hungry children. Moreover, the lawdoes not see the motif; it sees what has been done only.
When Nora talks to Helmer in favor of Krogstad he is not prepared tolisten. He says that Krogstad's sin does not remain in him only. He inherited the instinct of crime probably from a lying mother or father and his children will inherit that same. Nora is much troubled by Helmer's idea that a lying mother corrupts her home and poisons her children's psyche.
Act II
The second act begins with the conflict. The drama develops into a complication. Nora being disturbed, does some activities with mental unrest. Nora talks to the nurse in a quite prophetic remark. She asks the nurse whether the children forget the mother if she is absent. The nurse is greatly shocked by her words. Nora speaks quite abstractly. Then Mrs. Linde appears in the room. As soon as she arrives, Nora asks a favor and talks of her critical condition. But, before coming to the topic, Nora looks Mrs. Linde in the dress. The two ladies talk about Dr. Rank. Mrs. Linde is suspicious of Nora's relationship with the doctor. She makes many questions regarding Dr. Rank. Dr. Rank is Trovald's oldest friend. Mrs. Linde makes fuss over Nora childish manner. She advises her to stop such frivolous manners with Dr. Rank. She also suspects that Dr. Rank gave money when Nora was short of money. Nora asks Mrs. Linde to go to nursery room for sewing as Helmer comes into the room.
Helmer comes back from the bank. Nora pretends to be loving and talks in a very cajoling manner. After beating the bush, Nora comes to the topic of Krogstad. She pleads her husband to retain Krogstad to his post. Nora also talks of possible harms to be caused by that man. However, Helmer shows no interest to keep in the post. Helmer despises Krogstad's position in the office. He intends to send a letter of dismissal to Krogstad. Nora obstinately asks Helmer not to post this letter since it will bring havoc in the family. Helmer consoles his wife to share the problems together if anything happens he also reminds his wife of the party and its preparation. Nora is in excessive disgust and despair.
Dr. Rank comes. Nora and Dr. Rank converse Dr. Rank talks of his financial and health troubles. He is undergoing a serious illness, and no hope remains for him. Dr Rank does not like Helmer to know all these things. Dr Rank and Nora engage themselves in sharing some emotional dispositions. Dr. Rank praises Nora and her fond attention to him. He is truly in love with Nora since he did not get anyone to intimate with his wife. He also wished a better life of the couples. Helmer and Nora then, the two lovers, talk about the dress. Nora wants to share her trouble with Dr. Rank. On a condition that Dr Rank won't disclose, she tells her distress. As Nora is disclosing the secret, the maid servant enters into the room. Nora also tells of the dress that she bought without the notice. She sends Dr. Rank to Helmer's study room. The maid brings a visiting card. Mr. Krogstad wants to meet her secretly. He enters the house from the back door and waits in the kitchen. Krogstad comes to complain of Nora's fault. Nora also begs sorry that she could not help him. She also begs mercy from him that to disclose all the things to the husbanded public. Then, Krogstad asks money from Nora which she declines to give immediately. Krogstad tells his plan to Nora. He intends to get higher post in the bank. He has a good record for something back before the case of forgery. So, he wants to dismiss the case through Helmer. If not, he will create problem for Helmer and his family. He has a letter addressed to Helmer to which he drops into the letter box. Then he goes out.
Nora and Mrs. Linde remain. Nora cries in despair. Nora is horrified by the letter. Mrs. Linde assures her to help her. She wants to talk to Krogstand about the case. She is frequently shocked by letter. The key is with MrHelmer to open the letter box.
Nora peeps in Helmer's room. Helmer and Dr. Rank appear. Nora is detected to have been worn out in her dance. Nora leaves saying that she is not to be visited by anyone till morning. Nora asks Helmer to help her practice dance. Helmer gives word to help her throughout the evening. Nora wants to prevent her husband from opening the letter box otherwise he will get a letter written by Krogstad. As Helmer intends to open the letter box, Nora tries to stop him. Nora makes her husband busy with dance so that he will not open the letter box. Then, the husband and wife keep busy themselves. Helmer plays the piano. Nora dances in the middle of the room. Dr. Rank watches Nora. Then Mrs. Linde appears there. Helmer bids Rank to stop playing. Nora stops dancing. Helmer comments about Nora's dance that she forgot everything he taught her. Helmer asks the reason why Nora is so much perplexed. Nora tells the reality and begs him not to open the letter box. The maid servant comes informing about the dinner. All go out.
Mrs. Linde and Nora talk about the person. Mrs. Linde reports the person's leaving town. Mrs. Linde however, leaves a note for the person (Krogstad). She assures that she will settle the problem as soon as she talks to him. Mrs. Linde leaves Nora. Nora goes to the dining room. Nora is in mental delusion.
Act III
In the third act, Mrs.Linde and Krogstad secretly meet together. When the two couples meet, they converse about their past. Mrs.Linde and Krogstad were old lovers. But their love couldn't succeed, and Mrs. Linde married to another person. Krogstad shows his despair in life. Mrs. Linde also talks about bitter past, how she bore different problems in his life. Mrs. Linde proposes to Krogstad that she is ready to be his wife and care the children. Krogstad becomes thankful to the lady. Mrs. Linde pleads to Krogstad to withdraw his decision to take revenge on Nora and Helmer. Mr.Krogstad, quite grateful to the lady, prepares to do whatever she tells him. MrKrogstad changes his decision and becomes sympathetic to Nora. Nora and Helmer talk whose voice are audible. Nora is led to enter the hall. Linde says that she is waiting for Nora to see how Nora appears in her dress. Nora, also comes. She wants to stay a bit longer so that she can talk to MrsLinde. Mrs. Linde informs of the later development. Further, Mrs.Linde also assures, that nothing will be wrong on part of Krogstad. Mrs.Linde leaves. Nora and Helmer remain there. Helmer shows his piety affection to his wife. Nora is, however critical to all such affection. She dislikes to share triviality with her husband. Dr Rank knocks at the door. Dr. Rank is drunk. Dr. Rank, as usual, is in low spirit who talks of his death. He says good-bye to the couples. Helmer goes to the hall, bringing some days with him. He intends to empty his letter-box. Mr.Helmer perceives someone at the lock. Nora adds it must be children. Helmer calls out his maids. He finds two visiting cards of Dr Rank. There is a black cross on the card. It indicates that Dr. Rank is dying soon. Helmer expresses his distress on the presumed death of the Doctor. Then, Helmer goes to his room with the letter. Nora, greatly annoyed and murmurs herself about her future. She runs to the door and Helmer calls her out. As Helmer reads out the letter, he curses his wife as being a hypocrite and a liar.
Nora remains silent for some time. Nora is lost in her depressed mood. She patiently listens to whatever her husband says to her. However, Helmer accepts her to stay at home, but not as a wife. She is not, allowed to touch the children. Helmer is in wrath. The maid enters with a letter addressed to Nora. Helmer grabs the letter. When he reads he expresses his content. The letter is written by Krogstard apologizing whatever he has done. He also returns the I.O.U. Helmer composes himself and he discloses to have forgiven everything. Helmer talks a long speech cajoling his wife. Nora becomes bold. She offers Helmer to talk a serious talk in her life. She speaks that both her father and the husband have misunderstood her. Helmer is taken aback. She charges her husband to have taken her as a doll. The house becomes a play thing and the children are her dolls. Helmer realizes and repents of whatever has happened to her. He further assures that noting such will happen. Nora shows her boldness to start a new thing for her own. She feels necessary to educate herself instead of the children. Nora realizes her self-importance as a human being. She even begins serious and philosophic talk. She talks about law and religion. Helmer objects her talks as sheer frenzied madness. She even declares she does not love Helmer any longer. She also despises her husband's dual standard. When he saw the letter, he cursed Nora because the letter could ruin his reputation. However, when the apology letter came, he pretended to be sympathetic to his wife. Helmer makes his futile effort to stop Nora. Nora prepares her parcel. She even returns her ring back and asks her too. She also asks her husband not to write since he is only a stranger to her. Slamming the door in the midnight, she leaves the house. Helmer expresses his despair burying his face, he hopes of a miracle to happen.
A Doll's House Study Center
Signification of the Slamming of the Door in A Doll's House
Nora's Identity as a Person in A Doll's House
Parallelism and Contrast in A Doll's House
The Plot Construction in A Doll's House
The Significance of the Title A Doll's House