Incident inside the Parlor in Lord Byron's Love Letter
The one act play Lord Byron's Love Letter by Tennessee Williams is famous. The setting of the play is a dark parlor of a fades house in the French quarter. There is a rose shaded lamp and the spinster is sewing something. The old woman in black silk dress is sitting opposite to her doing nothing.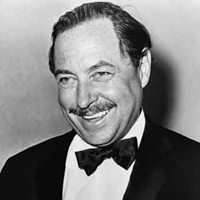 Tennessee Williams (1911-1983)
Meanwhile, the doorbell rings. Perhaps someone has come to look at Lard Byron's love letter. The old woman goes behind the curtain and the spinster goes to the door. She invites the matron, who has come for festival with her husband. She notices a canary in a very small cage. The canary is not alive, but stuffed. Her husband is outside on the street. She wants to look at Byron's love letter. This letter was written to the spinster's grandmother, Irenee by Byron. She met Byron on the steps of the Acropolis in Athens.
The matron goes out to call her husband, Winston Tutwiler. The old woman then asks the spinster to watch them carefully. The matron returns with her husband who has been drinking and wears a paper cap sprinkled with confetti. She tells him that the ladies are going to show them Lord Byron's love letter. The matron introduces her husband and herself to them. The spinster describes how her grandmother met Lord Byron by reading her grandmother's diary.
After a while the old woman tells the spinster not to read the diary any more. She is asked to show them the letter. The spinster also recites the poem which her grandmother wrote to the memory of Lord Byron. The band grows louder rapidly and passes by carelessly. Mr. Tutwiler, roused from his unconscious state, goes suddenly to the door. He asks his wife to follow him. Then the spinster quickly asks for some money. The matron does not pay any attention to them. She says that she must go because her husband has disappeared in the crowd. They want a little money for the display of the letter. Actually, they earn their living by showing the letter. The matron goes out. The spinster follows her to the door. There is unbearable light and sound. She closes the door and bolts it. The old woman says that they have gone without paying, and that they have cheated them. She is very angry. Then she tells her granddaughter, Ariadne that her grandfather's letter is lying on the floor.