Old Woman and the Spinster in Lord Byron's Love Letter
The Spinster is a woman of forty. She can sew clothes. She does most of the action in the play. Whenever someone comes, she opens the door and reads the diary for them. She shows the letter to them and also asks for the money.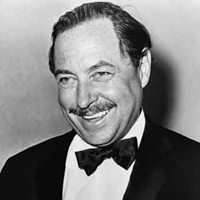 Tennessee Williams (1911-1983)
The old woman in a black silk dress does nothing. When someone comes to look at Lord Byron's love letter, the woman goes out and hides behind the corner. But from behind the curtain, she keeps on directing the spinster. The old woman thinks that Byron was banished from England, but the spinster's opinion is that he left the country willingly. The old woman defends Byron saying that he was not an evil man. But, the spinster does not agree with her. The old woman highlights all the good qualities of Lord Byron. She does not judge him critically. It makes us think that she herself might be the American girl who met Byron at Acropolis. She alerts the spinster time and again. When the Matron goes out to call her husband, the old woman asks her to watch them carefully. The spinster does not like frequent interruption by the old woman, who passes unfavorable comments on the visitors.