Individual versus Society in The Misanthrope
The conflict between the individual and the society is one of the major thematic issues in the play The Misanthrope. The unique and interesting feature of this drama is that if the individual is right and, is shown fighting with a society that is wrong, the individual is also wrong in this drama.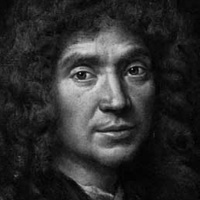 Jean-Baptiste Poquelin (Moliere)
In other words, unlike the other realistic dramas or stories which show a revolutionary individual challenge, fight and win the society's shortcomings, the present play shows how an individual cannot simply change or correct the society's weaknesses. Indeed, it shows how its hero looks ridiculous before his ridiculous society because he is also equally ridiculous in practice.
The conflict between the individual and society is serious and significant in most other plays where there is such a conflict. But in The Misanthrope, the hero as a revolutionary individual is only in an apparent conflict with his society. Alceste seems to be able to expose and even fight against the evils of his society, like the false friendship and the insincerity of dealing and communication with others. But he is completely unable to put anything into practice. He only proves to be the worst and weakest personality in his society.
The conflict between individual and society in this drama is not like that of the traditional comedy because the comic plot does not lead to a resolution of integration. The individual neither integrates nor disintegrates with his society at the end. Alceste becomes a 'pendulum' between his own commitment for perfection and the compromise with the society that never allows any of his visions to be put into practice.
The conflict between the individual and society in this drama does not bring about any change. However, good they sound at first, the individual hero's new ideas are as useless as the society's old ways. So, the conflict is not supposed to make one party, win and tell us which is right and which is wrong. The theme of the drama is ultimately our own conclusion: neither Alceste's impractical philosophies nor the corrupted manner of Celimene are acceptable. We should conduct our lives by knowing how much we should follow the society and why, and how much we can implement our own ideas.
The Misanthrope Study Center
The Issue of Incompatibility in The Misanthrope
Portrayal of Virtues and Vices in The Misanthrope
Alceste as a Social Misfit in The Misanthrope
Dramatic Technique in The Misanthrope
The Misanthrope as a Comedy of Manners