The Misanthrope by Moliere: Summary
The drama begins with Alceste and Philinte meeting at Celimene's house. From the very opening scene, Alceste is in an unhappy mood. He is grumbling about the fallen state of the society of fashion and he finds its obvious example in his own friend Philinte, a man who represents social conformation.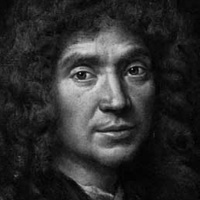 Jean-Baptiste Poquelin (Moliere)
Alceste accuses Philinte of being dishonest in flattering a man's virtues whose name Philinte cannot remember. It is Alceste's principle in life that one should not speak even a single word that is not from one's heart. Because of the same outspoken nature, Alceste has become a "crank" in the flattery loving society. In Philinte's opinion, if people can be made happy with a few polished words, one need not be too frank and tell them all the bitter truths.
Alceste is disgusted with the artificiality and corruption that the society has fallen into. He sometimes dreams of fleeing (escaping) to "some desert land unfouled by humankind". Throughout the play Alceste gives the impression that he is a resolute truth-lover and condemner of false shows. However, from the opening to the ending of the play, Alceste fails in his own moral standards laid down by himself. He has to acknowledge in front of Philinte that Celimene is a flirt and the epitome of falsity, which he condemns so much. But he is helpless in his love for her. He is here to tell Celimene to choose either him or the others.
Oronte, who loves to call himself a poet arrives in the scene. He wants to have his sonnet commented by Alceste. What he wants is words of flattery and so he flatters Alceste first as a man of vastest admiration. Philinte appreciates the same thing as a delightful composition while Alceste condemns him for being a bad poet. In a discouraging way, he suggests that it is an inexcusable sin to think of publishing such 'rubbish'. Oronte's expectation is frustrated. He leaves the place deciding to go to the courts and filing some kind of false case against him.
The second act begins again with Alceste's grumbling, this time against Celimene's flirtatious nature. He strongly suggests her not to receive all her suitors with the same welcoming smile. Celimene does have her own justification. She has not refused the love of anyone because she has been obtaining one or the other kind of advantage from everyone. In the gathering of all of Celimene's suitors, Alceste ridiculously presses her to choose one among them. To divert the matter elsewhere, Celimene begins her usual business of scandal-mongering (talking badly about others and destroying their reputation). The image of every "absent fool" is damaged and Celimene takes great pleasure in it. Celimene's suitors appreciate her "accurate" character sketches. It is really ridiculous that if one of the victims of this gossip arrived in the scene, Celimene would be the first to flatter him as the greatest. Alceste blames the others for encouraging Celimene to criticize others, but Celimene herself ridicules him as a foolish man. But even then, Alceste doesn't leave her house, because he is willing to make her promise to declare her absolute love for him and send away all the rest of the people who seek her love.
The third act begins with Acaste's self-flattery. Upon Clitandre's questions about why he looks ever cheerful, Acaste answers that he is clever, handsome, gracious, polite, and has a "small waist", and strong white teeth. The people of this artificial world are so conscious of even the little things of their personality; and this man of principle is no exception, despite his principles! They have nothing else to spend their time with Arsinoe, the moral prude, arrives to warn Celimene of her notorious coquetry. Celimene is well prepared with an equally powerful charge of hypocrisy against Arsinoe. For Celimene, youthfulness is a joy of life that she is not going to abandon at the age of twenty. In a jocular way, she just says that time will make her a prude, one day when the charm of the face will no more remain. Arsinoe's moral cloak is torn apart in the next scene where she is shown to be tempting Alceste with a promise of some position in the court. She also appears as equally subtle.
The fourth act begins with Philinte and Eliante's business like dealing Eliante loves Alceste, despite the fact that Alceste is running after Celimene. She dreams that she will be prepared to offer herself to Alceste if Celimene chooses some other man. Philinte is looking for similar type of opportunity. In case Alceste and Celimene marry, he will be in a position to join Eliante. The two agree.
The fifth act comes up with a shameful revelation of Celimene's coquetry. She has written; in her own writing, to Alceste and Clitandre. In each of the letters she has praised the receiver and cursed all the rest of the men to whom she is sending similar letters. When the two letters are combined, it appears that Celimene has loved no one, sincerely. The suitors are just playthings for her youth. Everyone else leaves Celimene except Alceste. He is in fact the most damaged by Celimene's charm. He has lost in the law suit and frustration has made him determined to flee away from the foul some world of humankind. When Celimene refuses to flee with him, he once tries to convince Eliante, who also refuses him. He is finally so frustrated that he decides to go away alone. Eliante and Philinte agree to marry and to change the mind of Alceste, the misanthrope.
The Misanthrope Study Center
The Issue of Incompatibility in The Misanthrope
Portrayal of Virtues and Vices in The Misanthrope
Individual versus Society in The Misanthrope
Alceste as a Social Misfit in The Misanthrope
Dramatic Technique in The Misanthrope
The Misanthrope as a Comedy of Manners