"Master Harold" and the Boys by Athol Fugard: Summary
"Master Harold"... and the boys is a one-act play by Athol Fugard consisting of just three characters. The play opens with the regular rain outside which keeps away the customers at the tea shop of Hally. Sam and Willie are waiters at the tea shop. As there are no customers, Willie practices dance with Sam for the upcoming dance competition.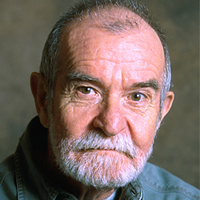 Athol Fugard (11 June 1932)
Sam has kept a table at the center of the stage for Hally to eat his dinner. Hally comes from the school and sits on the table and learns that his mother is not at home. He suspects something is wrong with his father at the hospital as generally the hospital does not entertain the visitors on Thursday. His father is an alcoholic and has an amputated leg. He does not feel good and comfortable with his father's condition. So, he is enjoying his father's absence.
Hally receives a call from his mother. The audiences hear Hally's responses on the phone and he is terrified to learn that his father is coming back from the hospital. Hally starts talking cruel about his father and Sam prevent him from doing so. After a short conversation on the phone with his father, Hally shows his anger by accusing Sam and Willie for interfering in his personal matters.
With the due course of the play, it is learnt that Hally takes Sam as a father figure and depends on him. They remember a scene in which Sam made a kite to Hally to fly in the public park. At first, Hally was ashamed of the kites, but when it flies in the sky, he feels proud. Sam later leaves Hally alone as the park is only for the whites. Once, Hally's father lost his consciousness due to excessive drinking in a local tavern. He had to go in first to ask for permission for Sam to enter the white only zone. Sam carried his drunk and fainted father and he had to follow them feeling humiliated.
Sam goes on persuading Hally not to hate his father to that extent. Hally starts showing his true color saying Sam ''You're only a servant here, and don't forget it.'' Moreover, he takes his superior position by ordering Sam to call him 'Master Harold'. Sam warns him stating that once he calls him, Master Harold their year long friendship will be broken and he will not call him Hally any longer. Hally mocks on the African's back for not being fair, and Sam in anger drops his pants and shows the boy that his rear is as dark as his face. Hally, in extreme madness of having the power of whiteness, spits in his face. Sam almost hits him, but his intellectual superiority does not allow him to do so. He controls himself and calls him, Master Harold, thus, concluding their racial war in a nonviolent way and ending their friendship. The play ends with the dance practice of Willie and Sam, signaling the peaceful coexistence of all races.