Meeting of Norah Brewster and Archie McDonald
Norah Brewster visits her granduncle Gregory Brewster, who seems to have been neglected. She has come to look after him. Just then Sergeant McDonald also comes to see Corporal Gregory Brewster, who was in the Scots Guards and who fought in the battle of Waterloo.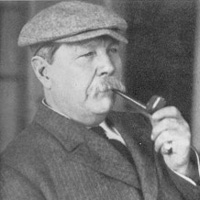 Sir Arthur Conan Doyle
He has heard that the old gentleman was not properly looked after. Norah says that that is why her father sent her to do what she could. She is preparing tea for the old man. McDonald says that there's not many living now who can say that they fought against Napoleon Bonaparte.
He reads the slip of paper beside the medal. There is the date, August 1815. He also reads the cutting of the newspaper. He hands back the frame and Norah says that they are all proud of her uncle. Taking his carbine, the Sergeant goes and Norah thinks that he kindly read to her all about her uncle. After a while the Sergeant appears again in the room. He wants to see the old man. He says that he is proud and glad to see the old man. He salutes him. Norah is half frightened and half attracted to see the young man. The old man asks him to sit down. The Sergeant introduces himself and says that all his mates are proud to have the old man in the town. As the Sergeant goes out, Norah thinks that he will be like her granduncle in sixty years and that her granduncle was once like him.
At the end of the play, Norah supposes that the old man is asleep. But he is so grey and thin that he frightens her. She wishes she had someone to advise her when he is ill and when he is not. Suddenly the Sergeant enters and asks how he is. But she feels quite frightened about him. He hopes that the sleep will bring strength to him. He has collected a pound of fine tobacco for the old man. He asks her if she has been to the barrack and requests her to come with her granduncle. The old man, in a loud voice says that the Guards need powder and struggles to rise. Norah is frightened. He again says that the Guards need powder and falls back into the chair. Norah and the Sergeant rush to him. Norah starts to sob and asks what he thinks of the old man. The Sergeant seriously replies that her granduncle is dead and with his old companions. These incidents bring Norah and the Sergeant, Archie McDonald, together.