What is Confessional Poetry?
The confessional poetry is something that poets of the fifties like Robert Lowell and John Berryman had developed; but it reached its climax with Anne Sexton. Confessional mode of poetry is also defined as the poetry of 'I' centering on the extremes of the psyche, taboo issues, mental illness, sexuality, and even suicide.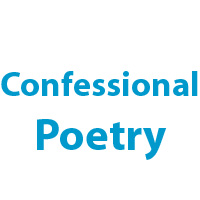 Robert Lowell's Life Studies entitled as the "Poetry as Confession", John Berryman's Dream Songs and Snodgrass' Heart's Needle, Anne Sexton in All My Pretty Ones (1962) and Sylvia Plath in Ariel (1966) are some of the milestones of the confessional poetry in American Literature. Such poetry broke away from modernism's dedication to the impersonality and reopened poetry to intense self-exploration and frank revelation of personal experiences. Some legends of confessional poetry are: Robert Lowell, Sylvia Plath, John Berryman, Anne Sexton, Allen Ginsberg and Snodgrass.
Although the early confessional poets rarely used their poetry to explore political issues, their investigations of how personal identity is constructed laid the ground for a more open political poetry that emerged in America in the late 1950s. The confessional poets also became the first generation to teach the writing of poetry in America. As instructors at some of the earliest poetry workshops, they developed poetry as a subject at a number of American colleges and universities. Some of Lowell's poetry students used his confessional techniques for even more intense and unsettling self-examinations - especially Anne Sexton in All My Pretty Ones (1962) and Sylvia Plath in Ariel (1966). Steeped in Freudian analysis and imagery, these poems tracked psychological breakdowns; and a number of the confessional poets, including Sexton and Plath, took their own lives. Their poetry explored tortured family relationships and examined the female psyche, the female body, and the dynamics of mother-daughter interactions. Sexton's and Plath's poetry influenced the development of feminist poetry - poetry by women that questioned the traditional roles society assigned to females. Confessional poetry in general served as a counterforce to the prevailing mood of the country in the 1950s and 1960s, when the family was presented in the mass media as the source of stability and happiness.
Published on 10 April 2018 by Kedar Nath Sharma