Wystan Hugh Auden - Biography and Works
Wystan Hugh Auden, the son of a doctor, was born in York and educated at Gresham School, Holt and Christ Church, Oxford. After leaving the University, he visited Germany and worked as a school teacher for a short time in England and Scotland. By the beginning of the thirties he became the leader of a group of left-wing poet in London, including Stephen Spender, Louis Mac Neice and C. Day Lewis.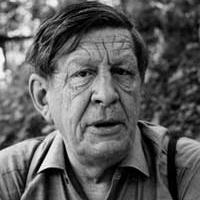 W.H. Auden (1907-1973)
The chief influence of the poetic movement of the thirties was undoubtedly the powerful intelligence and personality of W.H. Auden, who created the imaginative landscape of the 1930s. The contemporaries of Auden accepted and acclaimed him as a master almost from the very beginning.
When the Spanish Civil War broke out, Auden joined the side of the Republicans and worked for them as an ambulance driver. In 1938 he married Erika Mann, the daughter of the famous German Novelist Thomas Mann, and in the following year he migrated to U.S.A., subsequently becoming an American citizen.
He won the Pulitzer Prize in 1948 and was made the professor of Poetry at Oxford in 1955. A Freudian and a Marxist in the thirties, Auden became later "an American Existentialist Episcopalian". He taught for many years in American Universities where he continued to write poetry. The chief volumes of his verse are Poems (1930), Look Stranger! (1936), The New Year Letter (1941), Collected Poetry (1945), The Age of Anxiety (1947), and Selected Poetry (1959).
Auden's Look Stranger! (1936) is a collection of poems that secured his position as a leading left-wing poet. Supporting the Spanish Republican cause, he wrote Spain (1937). Auden also collaborated with Christopher Isherwood on several verse dramas, notably The Ascent of F6 (1936). He was awarded the Pulitzer Prize for his volume of poems, The Age of Anxiety (1947). He returned to England and held the chair of poetry at Oxford (1956-61). His later conversion of Anglicanism made his writing more serious, and he adopted a more reflective, expository style. The poems About the House (1967) and City Without Walls (1970) are personal in tone and combine informality with remarkable technical skill. He also worked on several opera libretti.
Auden's earliest poems breathe a strong revolutionary fervor, but they are not representative of his significant achievement. The revolutionary idealism soon died out and he took sober stock of the existing situation and realized that it could be reformed without civil war. By the time the Second World War broke out and Auden had left for America where he eventually took American citizenship. His later poetry is more concerned with religious and philosophical matters. A philosophical preoccupation replaced the old fanatic aggressiveness, and the later Auden came to base his thinking increasingly on Kirkegaardian existentialism. Even this aspect is not as important as the theme of human freedom, his keen interest in people, sometimes as temperamentally fused with the character of their natural surroundings. This connection is best exemplified in his poem "In Praise of Limestone". His dislike of war is coupled with a broad-minded sense of the general responsibility of humanity for its existence. 'Hunger allows no choice to the citizen or the police'. This is part of his existential refusal to ignore one side of the matter and consider only the other. His poetry becomes more reflective, urbane and discursive, leading to suggestions that in his later years he lost impetus and gained complacency.
Auden's poetic work consists of two phases - that of the social commentator and satirist of the 'Thirties' and early 'Forties' and that of the later period of an intellectual striving for a religious belief. It is in the former that Auden is at his best. As a poet deeply concerned with the predicament of the twentieth Century man, he has produced a body of verse which is one of the best poetic commentaries on this age of anxiety. Gifted with scintillating wit and satirical talents, he deliberately eschews all romantic strains in his verse and writes in a critical tone. He uses words as a surgeon uses a knife; there is the grace of precision in his expression. It is said that 'the most striking feature of his poetry is his emphasis on psychology and the memorable feature of it is his exquisite lyrical gift'. In form and meter he has experimented widely. He has evolved a poetic style, ironic and colloquial that enables him to write on many levels. Writing under the influence of Hopkins and T.S. Eliot, Auden produces poetry that is witty and ironic. He varies long alliterative lines of poetry with short rhythmic lines. His poetry is lively and energetic. He makes use of personal symbols and the imagery in his later poetry is clear and sharp. His special ability as a poet lies in his capacity to combine the rhythm of popular speech with technical formality.
Auden is now generally recognized as one of the masters of twentieth century English poetry, a thoughtful, serious playful poet whom more than one critic has compared with Dryden in his combination of lively intelligence and immense craftsmanship.
Cite this Page!
Sharma, Kedar N. "Wystan Hugh Auden - Biography and Works." BachelorandMaster, 19 Nov. 2013, bachelorandmaster.com/biography/wystan-hugh-auden.html.