Domestic Realism in Sense and Sensibility
Sense and Sensibility by Jane Austen keeps at its heart a domestic realism. It presents realistic portraiture regarding the domestic life of the growing middle class in England in the early eighteenth century. Domestic fact about the troubled relationship between step son and mother, step-brother and sister is the major conflict raising element in the novel Sense and sensibility.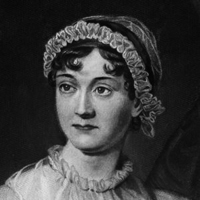 Jane Austen
In this novel John Dashwood having inherited his father's property, declines to fulfill his father's ultimate wish that John Dashwood could provide certain economic sum for the survival of Dashwood sisters and their mother. Due to this troubled domestic-relation between step-son and mother, daughter-in-law and stepmother, the Dashwood sisters and mother had to leave Norland and move to Barton Cottage. The family fact about the troubled relationship between family members has become the moving and motivating action in the story. Once the Dashwood family settled in Barton cottage, both Willoughby and colonial Brandon were harboring an intense rivalry for Marianne. Willoughby was spreading a rumor about Brandon that Brandon had an illegitimate daughter somewhere else in town. In the same retaliatory vigor Brandon was also spreading the facts about Willoughby's fleeting and faithless nature. There too lies an element of domestic realism. This back-biting nature of both the hero and the antihero throws light upon-certain domestic fact. With the changing structure of society the rising middle was all the time on the lookout for strong economic foundation. This social need of economic security made the growing generation greedy and rapacious for money. Even for the strong financial security at the domestic level, the growing youth developed a compromising nature. In Sense and Sensibility Willoughby sacrificed his love for money because the harsh domestic reality about his poverty pressurized him to do so. Lucy Steele compromised her moral dignity and her social prestige by moving from brother to brother because of her poor domestic background.
Another domestic reality is associated with a mother disinheriting her son for going beyond her wish in choosing a girl for her. Mrs. Ferrars disinherits Edward for not being ready to marry Lucy. But later on, her motherly love emerges for Edward and accepts him and Elinor. Domestic reality is more prominently clear in how near and dear, kith and Kin, friends and well-wisher assemble together and feel compassion and empathy to the victimized one. When Marianne became mentally and physically crushed other friends of hers-Brandon, Lady Middleton, Elinor and Margaret felt pity for her. They encouraged her by condemning Mr. Willoughby. In a close family people become really joined to understand the miserable one.
Still ahead another brand of domestic realism is visible in the generous act of Mr. John Middleton. A distant relative, Middleton became a close relative of the Dashwood family by his generous act of providing cottage to the helpless one. At domestic level people live with a sense of brother and compassion. A sense of co-operation and compassionate feelings underscore the moral fiber of the society. The moment this moral fiber is torn, life becomes morally confused and degraded.
Those people who belong to the upper middle-class, they organize party, welcome guests and guest hold a ball. At domestic level the new kind of realism regarding entertainment had already appeared in the society. The youths used to dance freely without feeling any sense of moral oddness. This portion of domestic realism affected the life style of people. On party and dance the young boy and girl had the golden chance of befriending more people. In this atmosphere of striking friendship with new people the youth had a fair chance of catching life-friend of their dream. In case their life-friend choosing search becomes successful, their domestic life becomes comfortable.